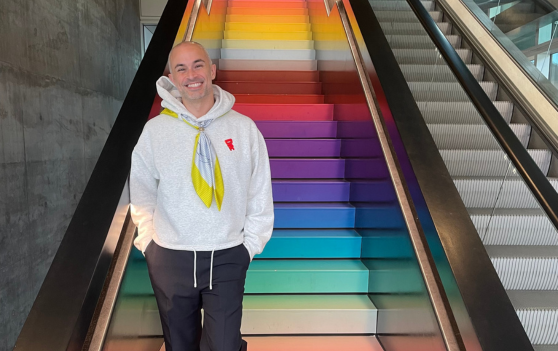 Volunteer Profile: Javier Gonzalez
Javier Gonzalez is an avid Food Bank supporter and volunteer who has served more than 70 hours at our Community Kitchen & Food Pantry in West Harlem, providing pantry bags to our clients with compassion and excitement.
Why is Food Bank's mission important to you?
I love that Food Bank offers more than just food to the community. It offers a range of tools and services that
empower
clients to thrive and overcome hunger. I love seeing this work in action.
What was your most memorable moment while serving with Food Bank?
During my first shift at the Community Kitchen & Food Pantry, I met so many clients: one had cool personal style, another one's funny jokes cracked me up, yet another showed off award-worthy dance moves. But what stuck with me were the countless clients offering their heartfelt gratitude for Food Bank's generosity.
Tell us about a meal that is special to you and your family.
Whenever I visit my parents, my dad makes café con leche con tostadas for breakfast: a piping hot mug of frothed, steamed milk with traditional Cuban coffee and buttered Cuban bread. Having cafe con leche for breakfast reminds me of my grandmothers, who drank it daily.
Who inspires you to serve?
In the last few years, my priorities have shifted, and I've felt compelled to do meaningful work. I wanted to do more than donate to important causes. The pantry distribution shifts afford me the opportunity to connect with my community face-to-face and spend a few hours each week helping people.