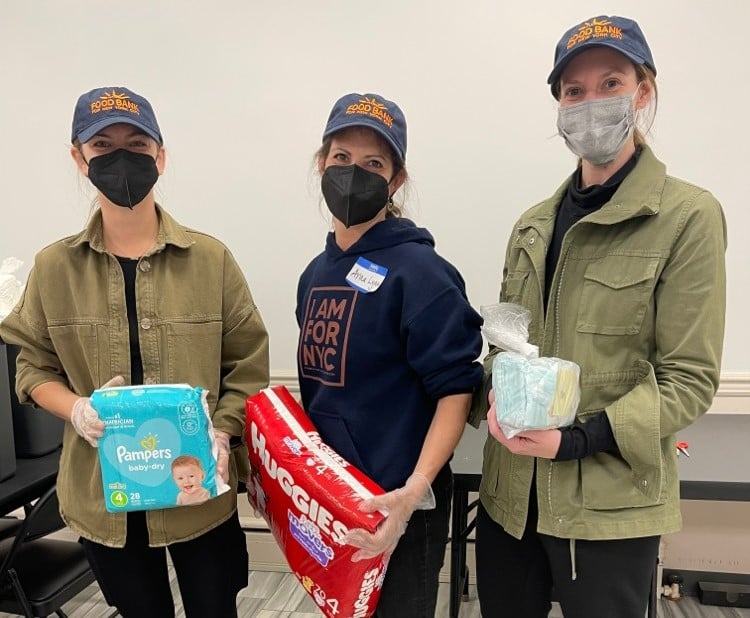 Volunteer Profile: Anna Lynn Oppenheimer
Anna Lynn (pictured center) started volunteering with Food Bank in March 2022 and has since become a regular volunteer at our Community Kitchen & Pantry, serving over 20 hours!
Why is Food Bank's mission important to you?
"I am passionate about ending hunger in New York City. I strongly believe that access to healthy food is a fundamental human right and I admire the innovative ways that
Food Bank works to provide New Yorkers with access to food and other important services and resources to help alleviate poverty."
What was your most memorable moment while serving with Food Bank?
"I was fortunate to be a volunteer the first day that the Community Kitchen was able to welcome volunteers again. It was inspiring to see Food Bank in action helping New Yorkers and also to meet the dedicated staff who had been courageously working on the front lines throughout the pandemic."
Tell us about a meal that is special to you and your family.
"I have been in New York for nearly 30 years, but as a Louisiana native, I love cooking, eating, and sharing a big pot of gumbo with family and friends. We even named our puppy "Gumbo," in honor of our favorite meal. "
Who inspires you to serve?
"I am inspired by my fellow New Yorkers, those who are in need of some sort of assistance and those who are able to lend a hand to help others. We are fortunate to live together in this amazing, if complex, city and anything we can do to lift one another up benefits us all."