At Food Bank, we are proud to be a grant recipient of the Grubhub Community Fund, which provides resources to organizations like ours to empower and support our neighbors. This Hunger Action Month, Grubhub has taken its partnership a step further by sponsoring our "Together We Rise" series, which features stories of resilience and strength from the folks who power our mission every day.
Ray Lu is a member of Food Bank's Junior Board, where he works with his fellow community members to support and raise awareness about Food Bank's mission to fight hunger for ALL New Yorkers.
Read on to learn a little bit more about Ray and how he found his place in New York City through volunteering with a food pantry in his neighborhood.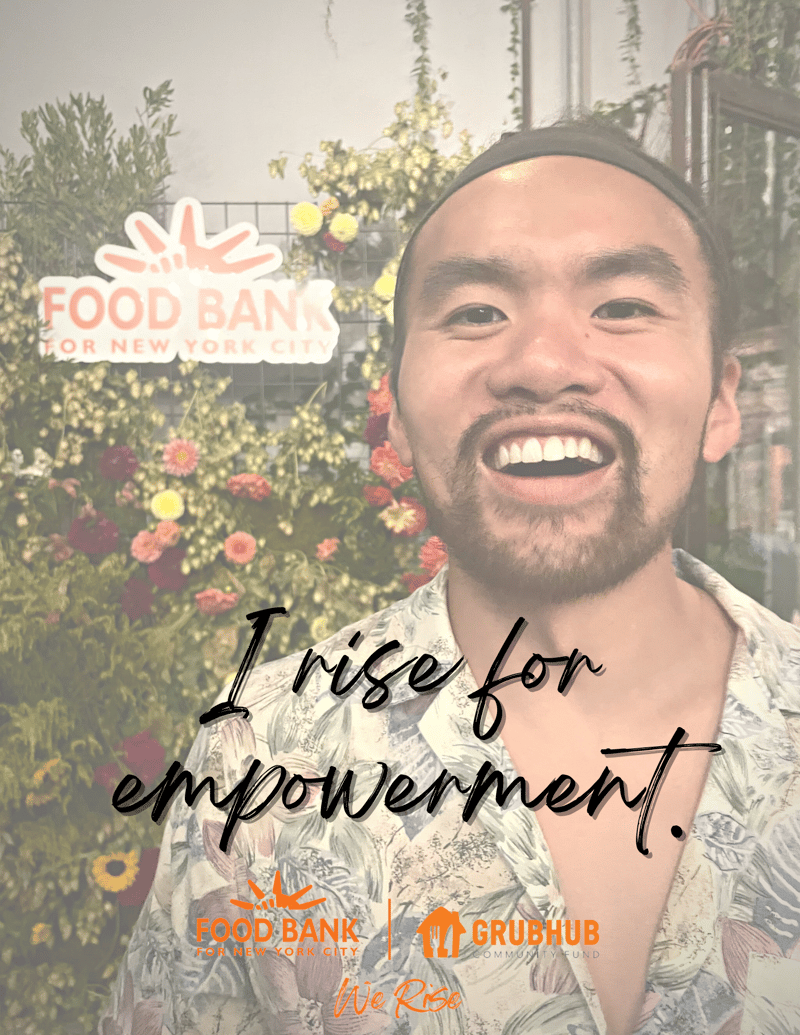 Where in NYC do you live? What's something special about your neighborhood that people may not know?
I lived in Chelsea for several years before moving up to Morningside Heights. On weekends, the street outside of Hungarian Pastry Shop on 111th Street and Amsterdam is closed to traffic and open for community events!
What does community mean to you?
A community is a group of people who support each other. I often tell people that I struggled when I first moved to New York City - in part because I didn't find my communities.
Over time, I connected with people who cared about the same things that I did, which made a world of difference
.
What keeps you motivated when times get tough?

I turn to my friends and family for support. I recognize that I'm lucky to have those people in my life, and part of my daily goal is to share their capacity for care with others around me.
Living life for others, with others, is in a way the essence of empathy and compassion
.
What keeps you connected to Food Bank's mission to feed and nourish ALL New Yorkers?

I've been volunteering at a Food Bank-affiliated pantry for over two years, and the fellow volunteers have become some of my closest friends. Though the food bank is located in my old neighborhood in Chelsea, I still find time on Saturday mornings to give back to and connect with the community. In addition, the Junior Board at Food Bank is comprised of an incredible group of people who inspire me to be better every day.
What do you rise for?
I rise for economic justice and empowerment.
Food Bank For New York City's "Together We Rise" series is presented by Grubhub, our Hunger Action Month partner whose immense generosity is enabling us to continue the work of feeding and nourishing ALL New Yorkers in these challenging times.