At Food Bank, we are proud to be a grant recipient of the Grubhub Community Fund, which provides resources to organizations like ours to empower and support our neighbors. This Hunger Action Month, Grubhub has taken its partnership a step further by sponsoring our "Together We Rise" series, which features stories of resilience and strength from the folks who power our mission every day.
One such person is Brett Swanson, the Head of Community Affairs and Social Impact at Grubhub, who spoke with us about what community means to him and how he stays motivated through tough times.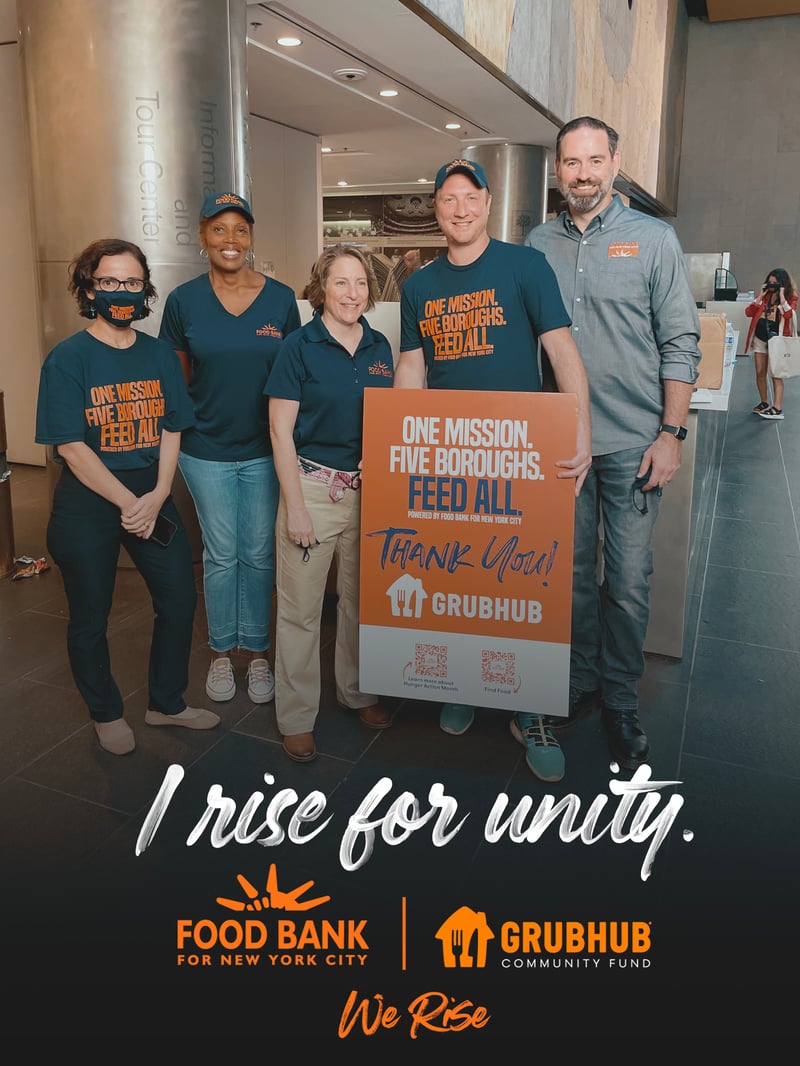 Brett standing with Food Bank Senior Leadership at a pop-up food distribution during Hunger Action Month 2021.
Where in NYC do you live? What's something special about your neighborhood that people may not know?
Greenpoint, Brooklyn. It gets its name from a piece of land jutting out into the East River that, to sailors passing by, literally appeared to be a "green point." The mid-to-late 1800s saw Greenpoint become a bustling center for industry, which drew many residents of Polish descent.
What does community mean to you?
It's that bond that unifies all walks of life, and provides support to those most in need.
What keeps you motivated when times get tough?
Keeping things in perspective. We as individuals can sometimes be self-centered and narrow-minded, and helping our fellow community members helps alleviate the "world is against me" mentality. Standing with our neighbors and working with like-minded individuals is the easiest way to dig yourself out of a hole when times are tough.
As inflation drives food, rent, and gas prices higher and higher across the city, how are you staying hopeful?
Tough times can bring out the worst in people, but focusing on the positives, developing concrete goals, and putting plans into action allows me to constantly maintain hope. Yes, costs are high, but companies, non-profits, and city officials are rolling up their sleeves to see what they can do to help. I would like to thank city leadership for their constant support in the fight against food insecurity. We must be innovative and collaborative now more than ever, and Grubhub's partnership with Food Bank aims to do just that.
What do you rise for?
I rise for unity and harmony.
Food Bank For New York City's "Together We Rise" series is presented by Grubhub, our Hunger Action Month partner whose immense generosity is enabling us to continue the work of feeding and nourishing ALL New Yorkers in these challenging times.