At Food Bank, we are proud to be a grant recipient of the Grubhub Community Fund, which provides resources to organizations like ours to empower and support our neighbors. This Hunger Action Month, Grubhub has taken its partnership a step further by sponsoring our "Together We Rise" series, which features stories of resilience and strength from the folks who power our mission every day.
Though a recent transplant to New York City, Elizabeth Schiffmann has already become a regular volunteer at Food Bank's Community Kitchen & Food Pantry in West Harlem. As she continues to explore her new city, she says that serving at Food Bank has helped her to feel more connected to her neighbors across the five boroughs.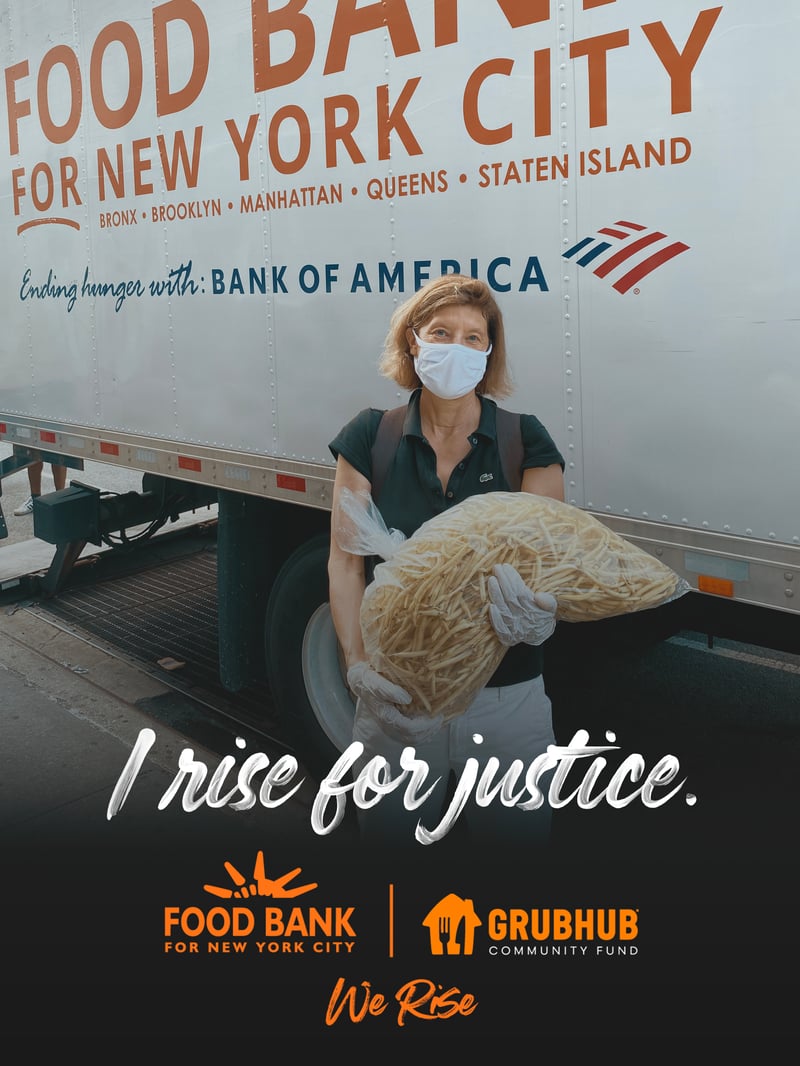 Elizabeth rescuing produce at a recent "Farm 2 Food Bank" volunteer shift at the Union Square Farmers' Market.
Where in NYC do you live? What's something special about your neighborhood that people may not know?
I live on the Upper East side and feel like I'm still getting to know my neighborhood as I moved here last October. But something I love is that there is a neighborhood group that works on preserving the trees along the streets and sidewalks. They prune and keep the wrought iron barriers in good shape.
What does community mean to you?
For me, community means getting to know the needs of your neighbors and helping if you can. This can include beautifying one's surroundings or volunteering at a place like Food Bank.
What keeps you motivated when times get tough?
Having moved here from the metro Boston area, I do not know many people, so this has been tough at times. Getting involved and helping out around a new community was the easiest way to better understand my new home. This also helps when I have some "poor me" moments!
As inflation drives food, rent, and gas prices higher and higher across the city, how are you staying hopeful?
I stay hopeful because I see how people truly care for one another and help each other, though often there are obstacles that they personally face. There is nothing we can't do when we come together.
What keeps you connected to Food Bank's mission to feed and nourish ALL New Yorkers?
I would not like to go hungry myself. The staff and other volunteers at Food Bank's Community Kitchen & Food Pantry have been so positive, friendly, professional, and extremely hard-working.
What do you rise for?
I rise for hunger and justice.
Food Bank For New York City's "Together We Rise" series is presented by Grubhub, our Hunger Action Month partner whose immense generosity is enabling us to continue the work of feeding and nourishing ALL New Yorkers in these challenging times.