At Food Bank, we are proud to be a grant recipient of the Grubhub Community Fund, which provides resources to organizations like ours to empower and support our neighbors. This Hunger Action Month, Grubhub has taken its partnership a step further by sponsoring our "Together We Rise" series, which features stories of resilience and strength from the folks who power our mission every day.
Patricia Raghunandan is the team lead at the Ozone Park Pantry, an organization that serves New Yorkers in the Queens neighborhoods of City Line, Ozone Park, Woodhaven, South Ozone Park, and beyond. Launched at the start of the pandemic, the Pantry now regularly reaches over 1,000 families throughout the borough, providing them with the culturally relevant food items they need to thrive.
We caught up with Patricia as Food Bank's Mobile Pantry Program stopped by for its monthly distribution with the Pantry to speak about the needs of her community and what she wants New Yorkers to know about the folks she proudly serves.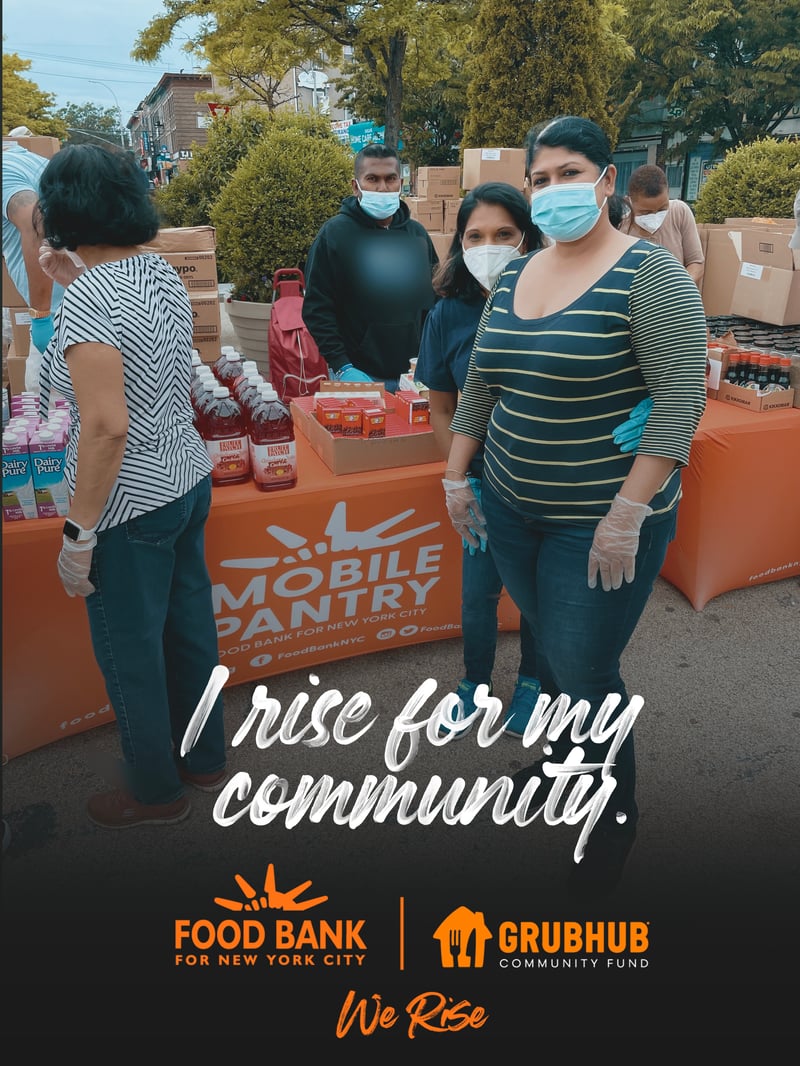 Patricia (right) with volunteers at a Mobile Pantry distribution in Ozone Park last June.
What is your name and what is your relationship to Food Bank?
My name is Patricia Raghunandan and I am the lead at the Ozone Park food pantry. Every month, we partner with Food Bank's Mobile Pantry Program to feed the local community.
How many households do you think you'll feed today?
I would say maybe 200, maybe more. We give all of this food out, so we'll be here until all of the different items are gone.
Can you tell me about some of the food items?
We always want to make sure that we have some sort of halal food because this neighborhood here in City Line has a lot of Muslim people, and they only use halal products. So, we make sure we have halal beef and halal chicken for them. We also want to provide fresh vegetables, which are prevalent in many of their traditional dishes.
What would you like people to know about your community?
This community is incredibly resilient. For many years, our Muslim neighbors here were afraid – there were attacks on Sikh people, uncertainty about where they could go to feel safe. I want people to know that this is a deserving community... we are often the last set of people to get food and other resources. We want more organizations to know that we need their help, that we need to raise awareness about food insecurity in our community. We want people to come out and help us and you can tell by the line today just how bad the problem is.
Believe me, at our food pantry, we have people waiting in line at four o'clock in the morning for a distribution that starts at 7:30 am. If they didn't need food, they wouldn't be standing there. If it's 0 °F, raining, 101 °F, they stand in that line, and the reason they stand in that line is because they need food.
Has the problem gotten worse for your neighbors?
The pandemic may be going down, but now food prices are rising and jobs are hard to get. When you're at the grocery store, you see that prices have doubled... how are people supposed to afford food?
The problem is definitely getting worse. A lot of places have cut funds for food. It's hard because people are going everywhere they can to get help. If they can come out here and get a little bit of onion, a little bit of farro, a bottle of juice, it's something they can hold onto. Every little bit counts... and it helps.
What do you rise for?
I rise for my community.
Food Bank For New York City's "Together We Rise" series is presented by Grubhub, our Hunger Action Month partner whose immense generosity is enabling us to continue the work of feeding and nourishing ALL New Yorkers in these challenging times.