Hispanic Heritage Month provides us with an opportunity to celebrate the leaders who fight for the dignity, empowerment, and survival of our Latinx neighbors, both here in New York City and across the nation.
While this list is by no means exhaustive, it does feature several individuals (both past and present) who have helped to combat food insecurity in Latinx communities and uplift the workers who have long provided food for all of us.
Take a peek at the full list below!
Mateo Guerrero-Tabares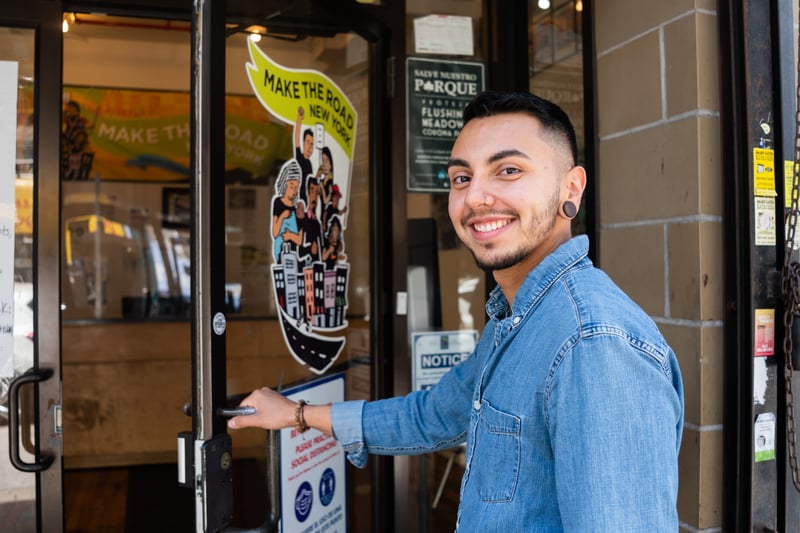 Mateo, standing outside Make the Road New York in Queens. Source: Feeding America.
Mateo Guerrero-Tabares is the Trans Justice and Leadership Program Manager at Make the Road New York, a Food Bank member agency that serves immigrant, working-class, and transgender communities throughout Brooklyn and Queens. Mateo found his way to Make the Road in 2010 after arriving in New York City as an undocumented minor. He began his journey as both a client and volunteer, receiving aid from the organization to adjust his immigration status and stay permanently in the United States. He now brings that same level of solidarity and support to the immigrant and transgender New Yorkers he proudly serves. Read our recent interview with Mateo!
Dolores Huerta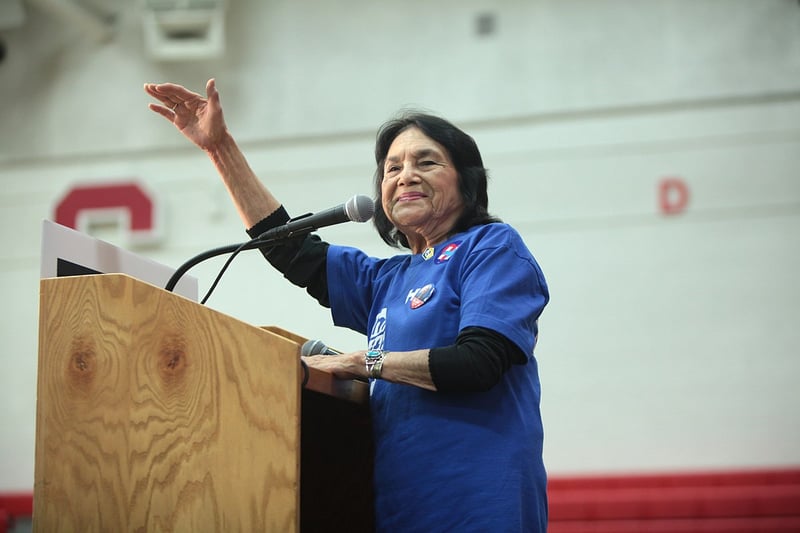 Dolores Huerta speaking at a campaign rally for President Bill Clinton. Source: Wikimedia.
A famed organizer and activist, Dolores Huerta has long been a champion for the working poor, women, and children. Though she rose to prominence when establishing the National Farm Workers Association with Cesar Chavez, she forged a unique path all her own that focused on helping migrant populations secure the resources they needed to thrive. Still a major labor leader to this day, Huerta travels the country as a speaker and campaigner, drawing on her decades of experience in the public sphere to fight against injustice.
José Andrés
José Andrés is a Spanish chef and founder of World Central Kitchen, an organization that provides emergency food relief to communities around the globe. Most recently, Andrés made headlines for taking to the ground to serve refugees escaping conflict from Ukraine. Andrés also provided meals and other resources to us here at Food Bank For New York City at the height of the COVID-19 pandemic to help us feed and nourish our neighbors across the five boroughs.
Emma Tenayuca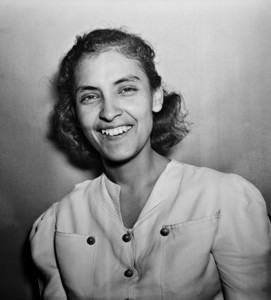 Source: Wikipedia.
Born in San Antonio, TX in 1916, Emma Tenayuca was a Mexican American writer, speaker, educator, and organizer who fought for workers' rights. Though she accomplished many things in her lifetime, she is perhaps best known for helping to orchestrate and lead a massive strike of over 12,000 pecan shell workers in her native San Antonio at the age of just 21. The strike forced owners to increase wages for the pecan shell workers, many of whom were immigrant women. The victory marked a significant step forward for the Mexican American struggle for justice and equality in the United States.
Cesar Chavez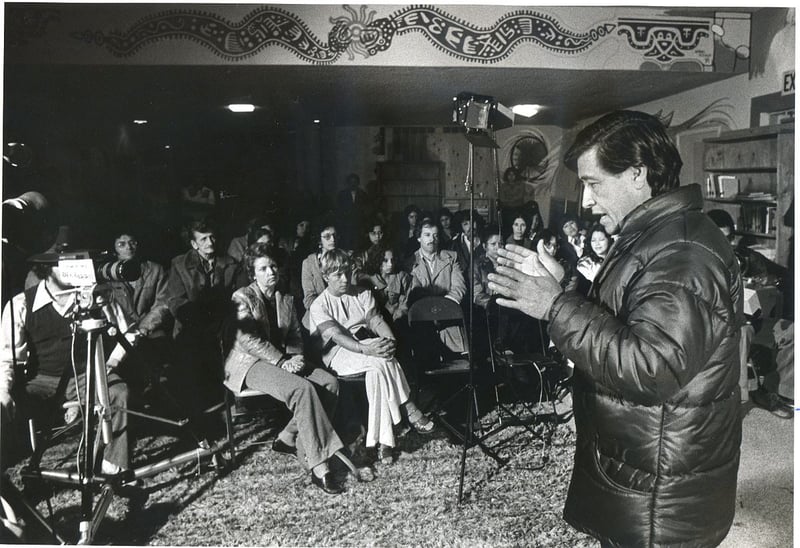 Cesar Chavez addressing a crowd. Source: Wikimedia.
Cesar Chavez was instrumental in securing union rights for migrant farm workers in the 1960s. As a farmer himself, Chavez decided to partner with Dolores Huerta to create the National Farm Workers Association (later known as the United Farm Workers of America) to advocate for the improvement of wages and conditions for those working the land. Chavez utilized a range of non-violent tactics – from marching to fasting, organizing, and collective bargaining – to draw attention to the struggles of migrant farm workers and solidify protections that continue to uplift and support laborers to this day.
Pedro Rodriguez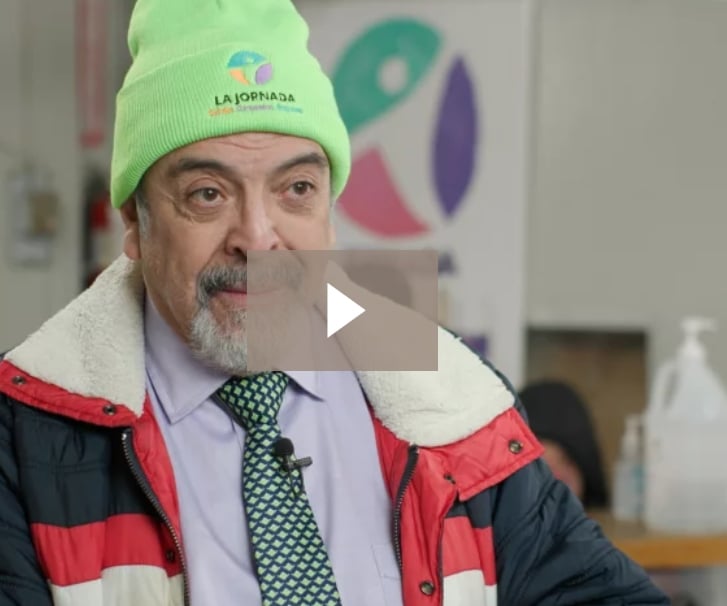 As the economic fallout from COVID-19 drove more and more New Yorkers to the pantry line, Pedro Rodriguez took it upon himself to establish La Jornada, a food pantry formerly located in Queens. Serving thousands of individuals and families a week, the pantry became a lifeline for immigrant communities in need of reliable and consistent access to produce and shelf-stable goods. La Jornada eventually joined the Food Bank member network, receiving grants from us to optimize their operations.
Jessica Govea Thorbourne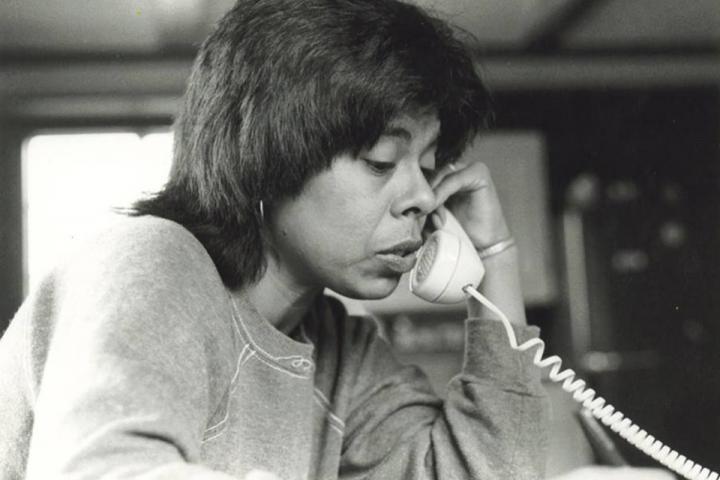 Source: Cornell University.
Jessica Govea Thorbourne was a labor organizer and educator who worked closely with Cesar Chavez at the United Farm Workers Union. She was one of the first activists to publicly call attention to the dangers of pesticides to both workers and food, helping to limit exposure and establish better safety practices in the field. Later in her life, Thorbourne served as a professor at Cornell and Rutgers, where she taught courses on labor organizing.
For more on how we serve our Latinx neighbors now and throughout the year, click here.