Food Bank For New York City's 2022 Pride Month theme is #ProudlyFed. For us, this means we not only serve the estimated 1 in 5 LGBTQ+ New Yorkers struggling to put food on the table, but that we do it with joy, love, and pride.
We also recognize that food insecurity in the LGBTQ+ community is often compounded by things like workplace discrimination, healthcare inequality, and housing insecurity. A citywide survey conducted in 2017 found that over 18 percent of LGBTQ+ New Yorkers had experienced homelessness, with these numbers soaring up to 60 percent for individuals who identified as Black, Hispanic, transgender, or gender non-conforming. Over 20 percent of respondents also reported that they had been denied a promotion, not hired, or been forced to resign from a job due to their sexual orientation or gender identity.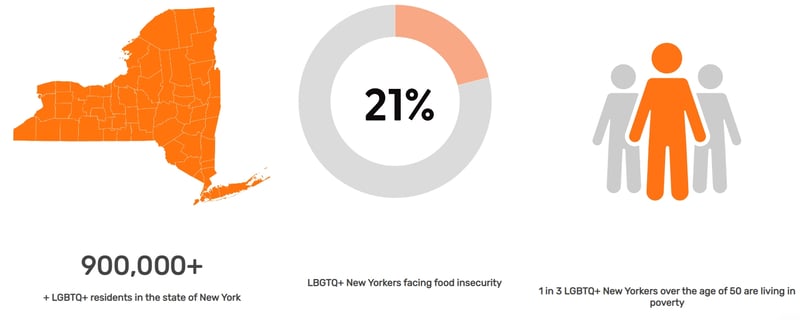 To address these diverse and varied challenges, we partner with and distribute food to community-based organizations that not only feed our LGBTQ+ neighbors, but work to provide them with free legal services, educational opportunities, healthcare enrollment assistance, and nutrition workshops.
One such organization is Make the Road New York, a Food Bank member agency that serves immigrant, working-class, and transgender communities throughout Brooklyn and Queens. Make the Road doesn't shy away from difference; on the contrary, the group finds power in bringing together New Yorkers from all different walks of life to advocate for collective change.
To learn more about the group's unique approach to service, we spoke with Mateo Guerrero-Tabares, the Trans Justice and Leadership Program Manager at Make the Road New York.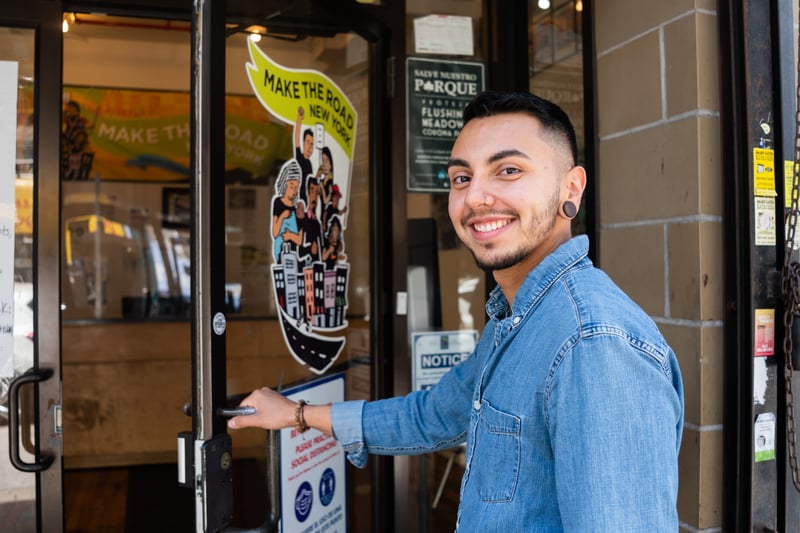 Mateo pictured at Make the Road New York's office in Queens. Photo credit: Feeding America.
Mateo found his way to Make the Road in 2010 after arriving in New York City as an undocumented minor. He began his journey as both a client and volunteer, receiving aid from the organization to adjust his immigration status and stay permanently in the United States.
Make the Road quickly became a "political home" for Mateo and was one of the first public spaces in which he felt comfortable embracing his identity as a transgender man. As he told us: "It was very special to be able to say, 'Mateo, he/they pronouns' and be uplifted and cared for in such a beautiful way."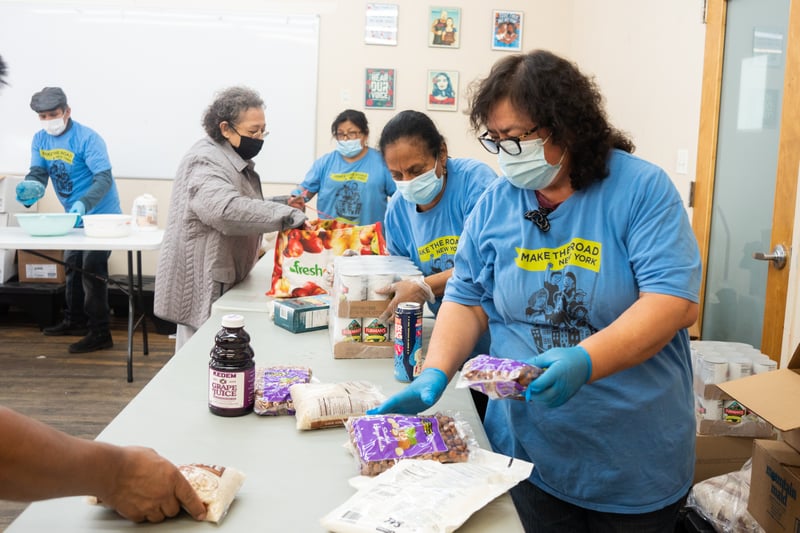 Volunteers working the weekly food distribution at Make the Road New York. Photo credit: Feeding America.
Now, in his role as the organization's Trans Justice and Leadership Program Manager, he's working to bring that same level of solidarity and support to the immigrant and transgender New Yorkers he serves, especially when it comes to providing them with reliable access to fresh, nutritious food.
In fact, Mateo started a special "bike brigade" at the height of the COVID-19 pandemic to deliver groceries to nearly 400 families a week. It was a way to sustain the sense of togetherness that has long fueled Make the Road's mission to build a more equitable future for New York City's most marginalized residents.
"I want our members to be able to define what it means to exist in New York — and not just survive — but have a dignified life," he said. "That sense of pride comes from a place of resiliency and community."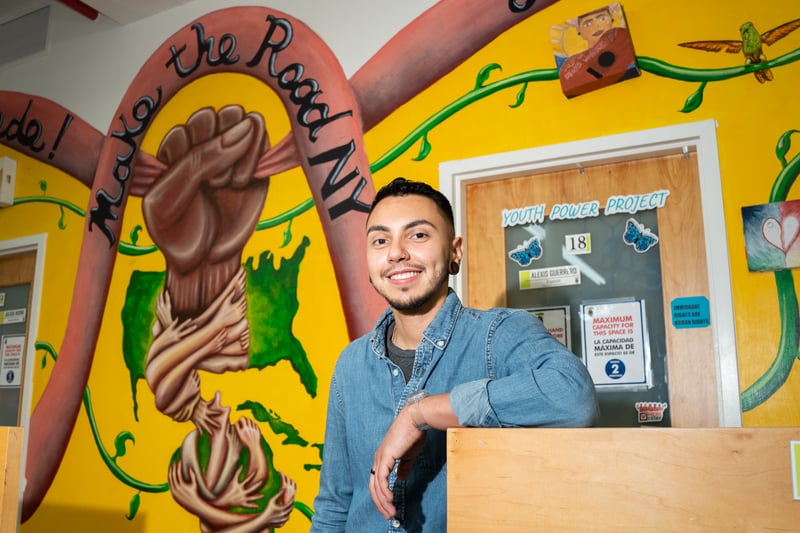 Mateo pictured at Make the Road New York's office in Queens. Photo credit: Feeding America.
We couldn't be prouder to partner with and provide food to organizations like Make the Road New York that put our LGBTQ+ neighbors first. For more on how we serve these New Yorkers now and throughout the year, click this link. You can also donate directly to our Pride Month fundraising campaign to help raise crucial funds for organizations just like Make the Road. Give here.
***
A special thanks to Feeding America for partnering with us on a suite of stories featuring LGBTQ-serving agencies in our extensive member network of over 800 food pantries, soup kitchens, and campus partners across the five boroughs. View the stories here.