"Portraits of Promise" is a new initiative at Food Bank For New York City, and one powered by a simple premise: On special occasions throughout the year, Food Bank will provide professional portraits to our neighbors as a keepsake they can cherish for years and generations to come.
Professional photography can be prohibitively expensive for many of the New Yorkers we serve, so this is a way for us to "go beyond food" in our service to the city we all call home.
To learn more about the program, I sat down with Dr. Camesha Grant, Food Bank's Vice President of Community Impact & Investment, who came up with the idea for "Portraits of Promise" when ordering school portraits for her 11-year-old daughter.
"It was the beginning of the school year and my daughter was taking photos," she explained. "I was completing the package to order the pictures and I saw that several of the different photo packages and products were well over $100. Suddenly it hit me — how do people who are food insecure get professional photos of themselves and their families? Between food and photos, many people will choose food, so they're not able to preserve these amazing memories of their loved ones. I immediately thought, we have to do something about this."
Read the full interview with Dr. Grant below!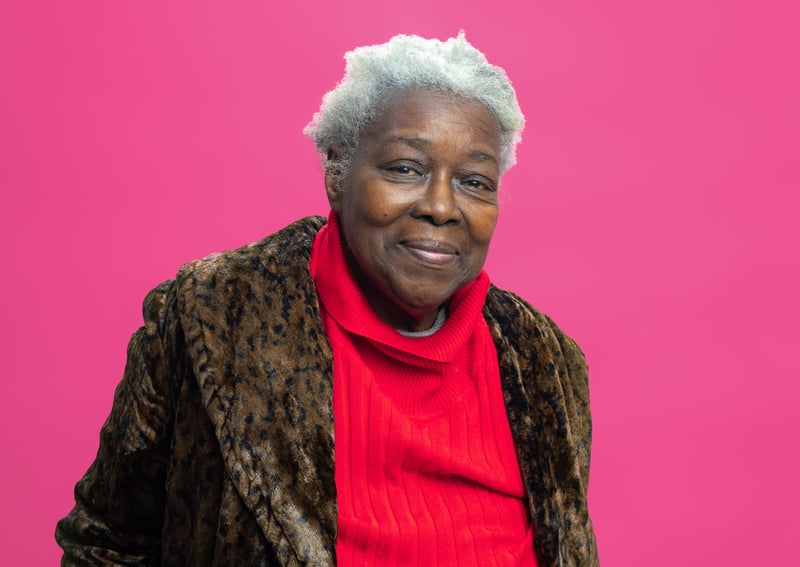 Martha Mae, a regular of Food Bank's Senior Program who visited our Valentine's Day shoot.
What is the power of a portrait?
It's the power to preserve precious moments, to have a keepsake you can pass down to your children and your children's children. The cost of living in New York City forces many of the families we serve to move across the five boroughs to different homes, so having a steady family portrait to hang on any wall in any home is priceless. It's a constant reminder of who our neighbors are and where they come from, something that immediately represents home and love. It's a simple thing to carry with you across the journey of life.
What would you say to someone if they ask why a hunger-relief organization like ours is providing this service?
Everyone deserves the opportunity to preserve memories — everyone, regardless of their housing or financial status. They should have the opportunity to capture moments of love and fun through photography, to have those images to look back on when times get tough. At Food Bank, we endeavor to serve the whole individual, to nourish their bodies, their minds, and their spirits.
With more and more New Yorkers being forced to the pantry line each day, we don't always get the opportunity to know every person who visits our Community Kitchen, to hear their stories. But when people come in and get behind the camera for a "Portraits of Promise" session, we get to see our neighbors come to life. We get to know them, get to see them, get to reaffirm that we are here for them.
These are everyday New Yorkers. In so many ways, this initiative is about breaking down the stigmas of who we serve. They're people just like you and me with personalities, emotions, stories, and journeys to share.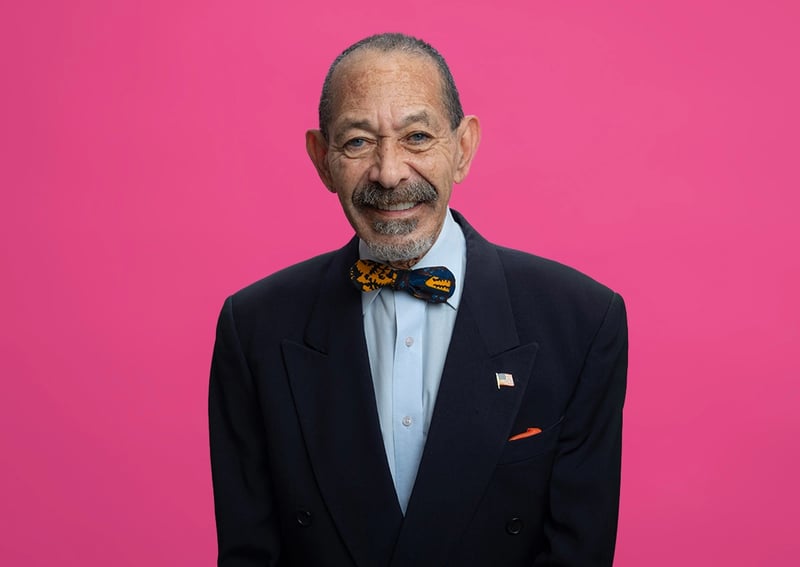 Gregory wearing his signature bow tie and suit at our Valentine's Day shoot.
Are there any stories or moments from this project that stick out to you?
There was one woman named Harlem at our Valentine's Day shoot. She was standing on line waiting for supper when I approached her and asked if she'd like to take a photograph. She was so excited to join us! She came inside and suddenly transformed, taking the opportunity to look good and feel good. She got behind the camera and presented like a model, so gracious and fun to work with.
And of course, Gregory, one of our regular senior visitors to the Community Kitchen & Food Pantry. Gregory has always been very dapper, loves coming in with a bowtie and suit. To learn that this was the first photograph he'd had taken of himself since 1972 was such a surprise and one that reminded me of how important this program is.
How do you see this initiative growing?
I think there are a ton of different ways "Portraits of Promise" could grow! This past August, we partnered with an organization that teaches children living in shelters how to swim. We provided packed lunches for the kids and also took portraits of them learning how to swim for their families. It was a way for us to take this program out of the studio and into the streets, allowing us to capture those precious milestone moments for the New Yorkers we proudly serve.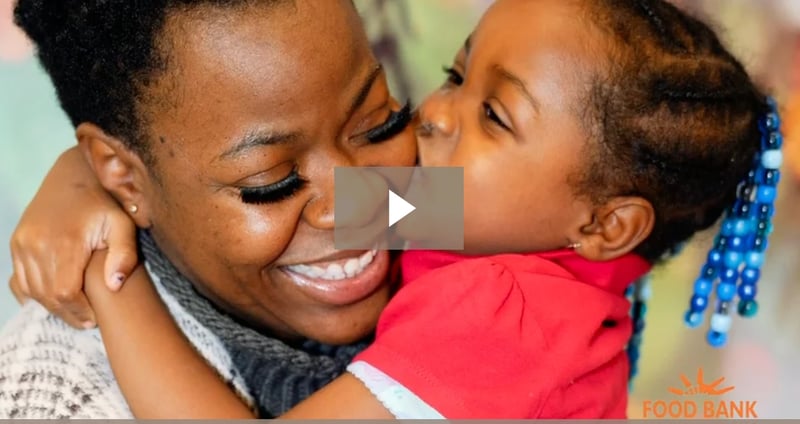 To learn more about "Portraits of Promise," click this link, where you'll find stories from New Yorkers we've profiled and updates about when the next shoot will be happening!