Food Bank For New York City launched Woman to Woman in 2016 with chef, author, and Food Bank Board Member Katie Lee Biegel. The award-winning campaign raises critical funds to assemble and distribute hygiene kits packed with pads, tampons, panty liners, diapers, deodorant, and soap to women and girls facing poverty in New York City.
But what do these New Yorkers look like? Well, for 2023, we wanted to put a face to the initiative by featuring some of these women and girls in a public awareness campaign that will run online and across the streets of NYC from now until April 30. One of the participants, Felicia, visited set with her daughter, and the dynamic duo lit up the room with their enthusiasm, warmth, and zest for life.
We spoke with Felicia to learn more about her story and how finding her way to the Lower Eastside Girls Club (a Food Bank member agency serving girls in downtown Manhattan) was a saving grace for her and her daughter.
Read the full interview below!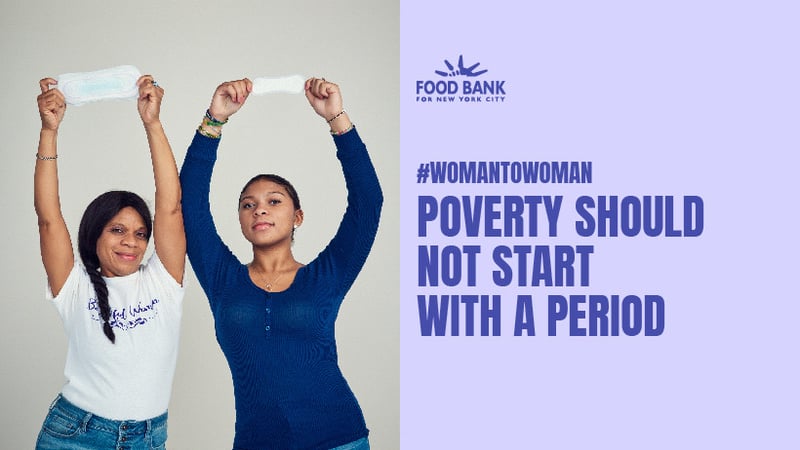 Felicia (left) and her daughter in one of our Woman to Woman ads.
So, to start, are you a native New Yorker?
I was actually born in Charleston, South Carolina to two wonderful parents. I come from a family that served in the Military on my father's side and, on my mother's side, I come from a line of great cooks, seamstresses, and builders. I moved to New York City with my mom when I was five. She was a single mother then and we moved into Brooklyn.
I hear you're connected to the Lower Eastside Girls Club... how long have you been going there?
I've been married twice, and we got to know the Girls Club when my daughter and I were living in a shelter three years ago. I asked God to send a mentor to help my daughter through this really tough time separating from her father, I was going through so many different emotions. And little did I know that there was a safe haven right around the corner from us... the Girls Club.
Finding the Girls Club helped my daughter get her self-esteem back. She found love with the women there, the mentors and friends she found there, who provided her with information and resources. I wanted to say goodbye to the world at the time, but the Girls Club gave me and my daughter hope. She made friends and had her mind and spirit exposed to all different sorts of activities. My daughter is an artist by nature, so she loves all of the art classes she can take. The Girls Club is just one of the best things that has ever happened to us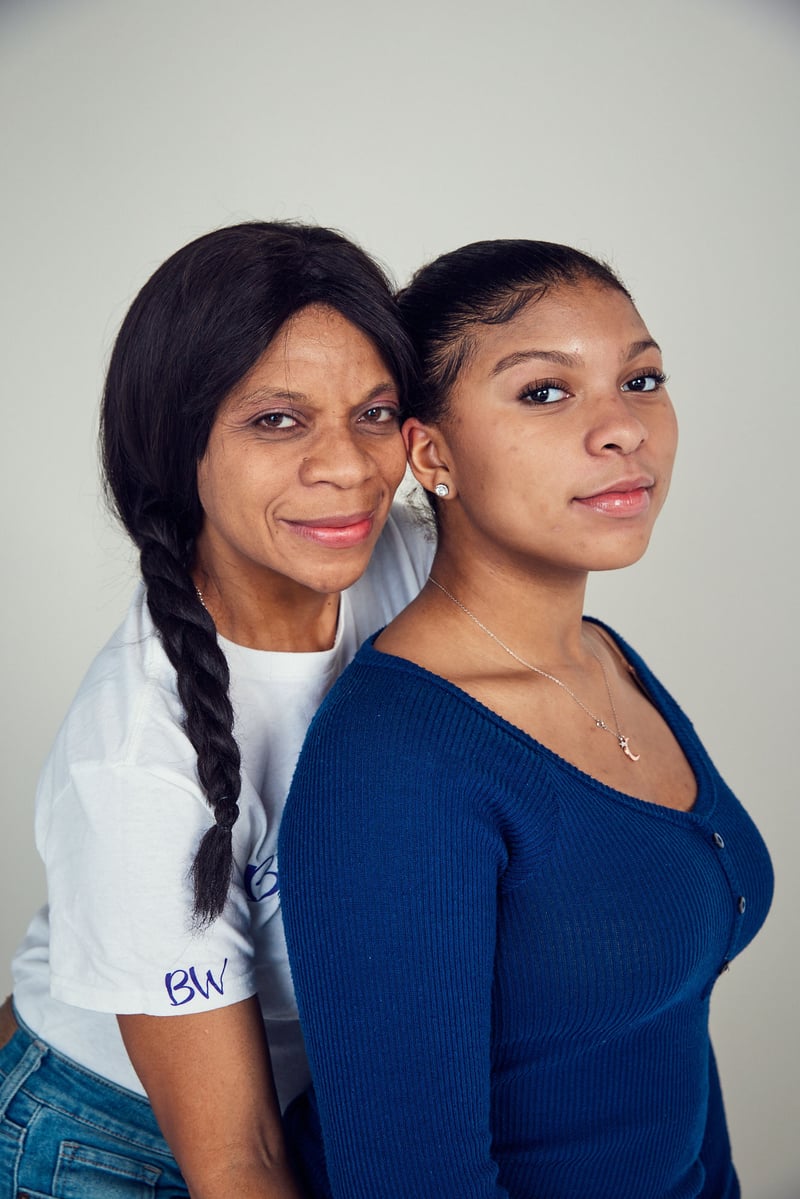 Felicia (left) and her daughter at our Woman to Woman shoot.
What made you want to join our Woman to Woman photo shoot?
Personal hygiene is all about self-love and respect. As a woman, it's very important. I remember when I was young... I was living with my aunt and her three daughters who were all around the same age. Believe you me, we did not always have access to period products in our home. Sometimes we had to use toilet paper, and if we didn't have that, we used a cloth. It was debilitating and embarrassing. When you don't have these products, you can't go to school or even go outside. You just keep it quiet as can be.
Throughout my life, when I haven't been able to afford these products, it's been humiliating and devastating. And so one of the things I love about the Girls Club is that when I went into their bathroom for the first time, I saw all the products there – the tampons, the cute little packages you could put in your purse. This is how you show love, care, and awareness. Some girls may not have this in their house because the items are so expensive! Astronomically expensive! I'm a home health attendant and I have to go buy diapers and pads for my clients and I'm like, whoa! Who can afford these things?
I remember growing up, I would usually get my tampons at school and not from home because my mom didn't have the money or she would forget. It's important to have these things in public spaces because people need them, and so they should be available. In 2023, we should not be embarrassed about this anymore.
What hopes do you have for your daughter?
My hope is that she really loves herself. Self-love, self-awareness is so important. I want the best for all of my kids and I'm behind them, no matter what they want to be. If you want to be a dancer, a designer, an artist, be the best that you can be. I worry that I don't always have enough money or time to help push my daughter, but that's why I rely on groups and programming to help fill in the gaps.
I hope that she will be confident to fulfill her goals and know that her mother and her sister are behind her 100 percent. I want her to wake up and enjoy every day with peace and solitude and community around her.
A huge thanks to Felicia for speaking with us and to all the women who joined us at our photo shoot! For more on our Woman to Woman campaign (and to see how YOU can help us provide thousands of hygiene kits to our neighbors across the five boroughs) click this link.