Mark Brand's journey in justice started angry. At least that's how the social entrepreneur, chef, activist, DJ, and Food Bank culinary council member put it to me on the phone. We were discussing Hunger Action Month and I had asked him how he found his way into the food justice movement.
"My journey began in a place of anger, as I think many people's does," he explained. "You have this moment where you realize that all of these systems of oppression are at work and you recognize your own role in it. You start to ask: How can I use my unearned privilege to make an impact in fighting these systems?"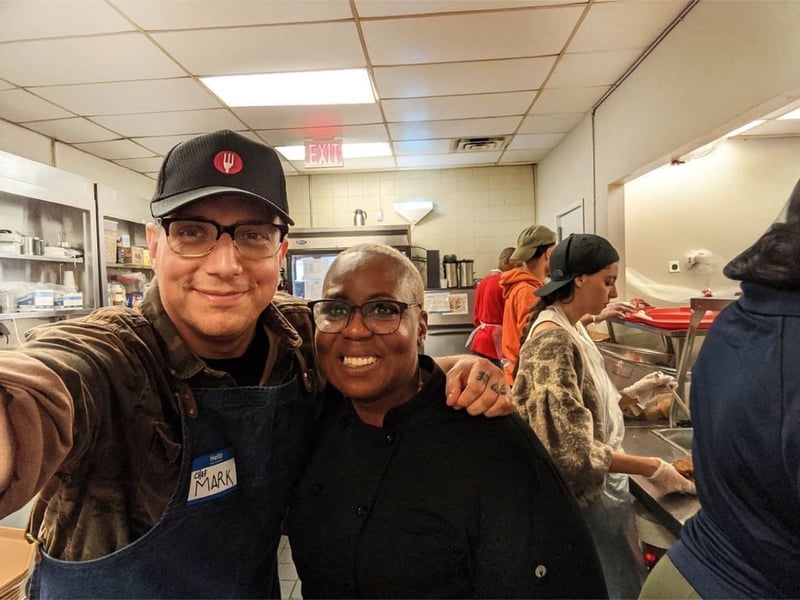 But for Mark, he wasn't just seeing these systems from the outside – he'd experienced them first hand in moments of struggle and hunger while growing up in Nova Scotia. He saw how they impacted his friends, family, and neighbors and understood from an early age just how powerful food could be, not only for its ability to sustain the body, but for how it could connect people and nourish their souls.
"I was trained by my family to always be in service to others and our community," he said. "If someone was hungry, the door was always open. There wasn't a lot, but there was always enough."
Breaking bread like this over his family's table became transformational for Mark. It inspired the types of conversations that can change a person if they're willing to listen. Ultimately, sharing resources with people who were different from him allowed Mark to stretch his empathy and widen his perspective.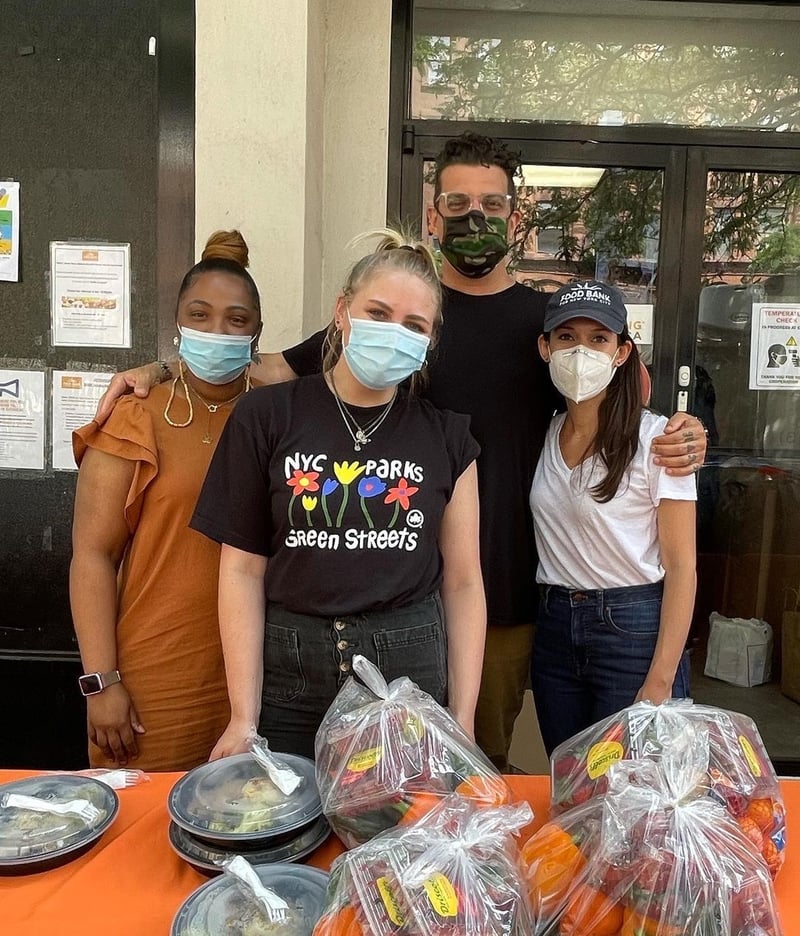 Fast forward a couple decades and Mark now operates five businesses centered on food, music, and community impact. His work extends to neighborhoods all across the United States and Canada and is focused on meeting folks where they're at, seeing what they need, and using his skills to fill in the gaps. And that's how he arrived at Food Bank three years ago, ready to slip in like water amongst whatever cracks he saw.
"One of the reasons why I serve on the Food Bank culinary council is because I can see myself plugging into the work in so many different ways. How can I support Chef Sheri in the Community Kitchen? How can I show up for our clients in Queens? Food Bank holds two different energies for me. On one hand, I'm so upset that it exists. But on the other hand, Food Bank has these deep, trusted relationships with organizations all across the five boroughs, which allows it to capture and mobilize the spirit of New York City in service of its people."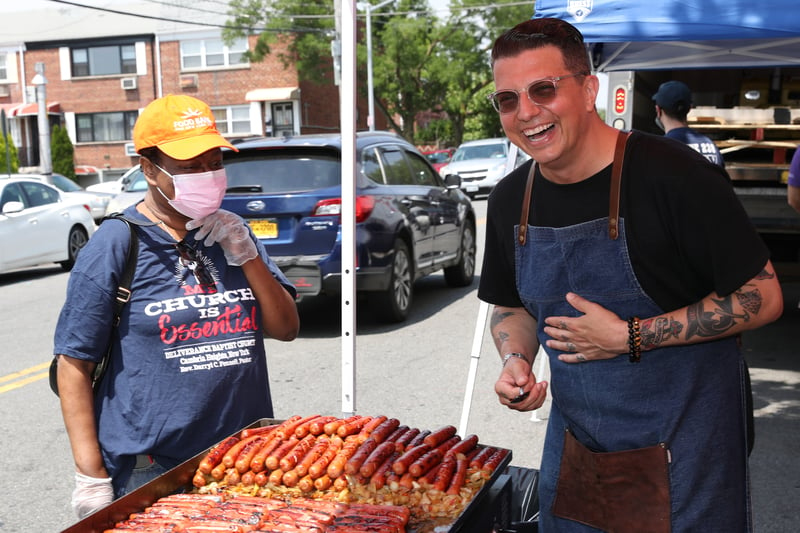 It's a community-based approach that aligns with Mark's desire to get to know people before mobilizing to "help" them, something he enacted with us as grill master at our Father's Day food distribution at Deliverance Baptist Church in Queens this past Juneteenth.
"In the food justice space, there's a lot of one day show up," he explained. "People will often say, 'I'll help out during Christmas or on Thanksgiving.' 'I'll go into a neighborhood that is deeply impacted by colonialism, by systems of oppression, and because people accept my food, it's all good.' But did you ask what kinds of food they wanted? Did you ask how you could support work that's already happening in these communities, how you could lend your time and talents to their missions?"
These questions can feel intimidating, but navigating them doesn't have to be. For Mark, it's all about being open and listening to the people you want to serve. Instead of saying this is what you're going to do, say this is what I'm thinking of doing. And then be ready to pivot in the moment to meet the actual need.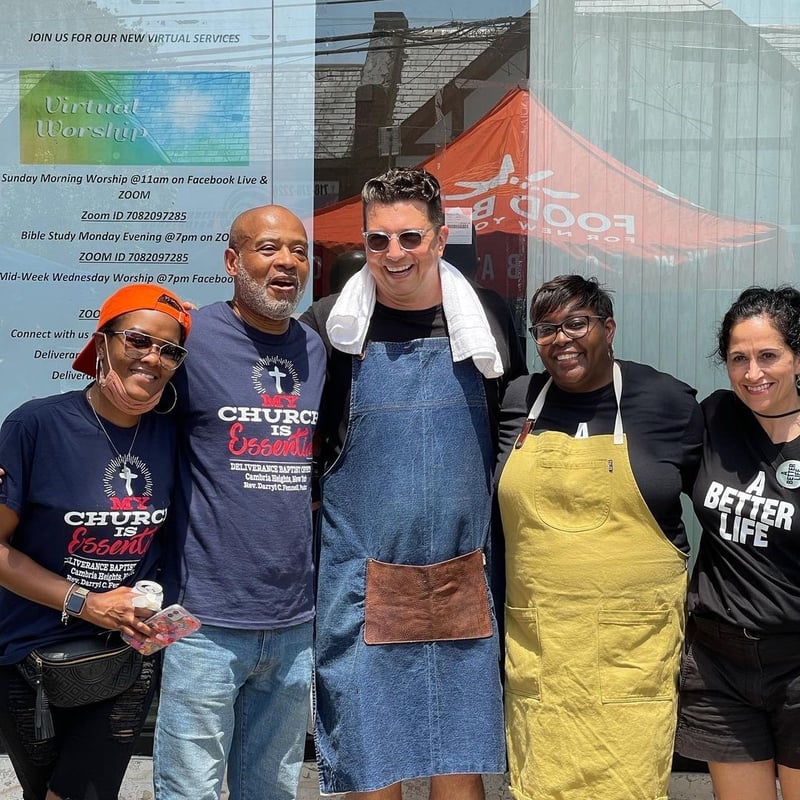 That said, as you're looking for ways to get involved with our work to fight food insecurity this Hunger Action Month, start with a little research. Get to know us, see what we need. At Food Bank, we make this easy by offering a ton of ways to engage, from volunteer opportunities on the ground to options for giving directly to the programs that nourish our neighbors all across the city.
"Decenter yourself," Mark offered as a bit of closing advice. "To truly be in service, you have to understand the plight of the people you're trying to be in service to. Before you go to serve someone, see them. There's nothing better in the world than being seen."
To learn more about Mark and his work to transform the world through food and community, go here. And to figure out your place in our mission to fight hunger across NYC, click here.