On March 29, Food Bank For New York City hosted a 40th anniversary bash at the Museum of the City of New York. A joyous mix of donors, volunteers, board members, junior board members, corporate partners, Food Bankers, and even the Mayor of NYC himself Eric Adams stopped by to celebrate the milestone, enjoying cocktails, hors d'oeuvres, and lively chatter as they explored the museum and its "Food in New York: Bigger than the Plate" exhibit.
"It is an honor to be here with all of you to celebrate 40 years of serving the city we all love," exclaimed Food Bank President & CEO Leslie Gordon in her welcoming remarks. "I am proud and humbled to be with you tonight."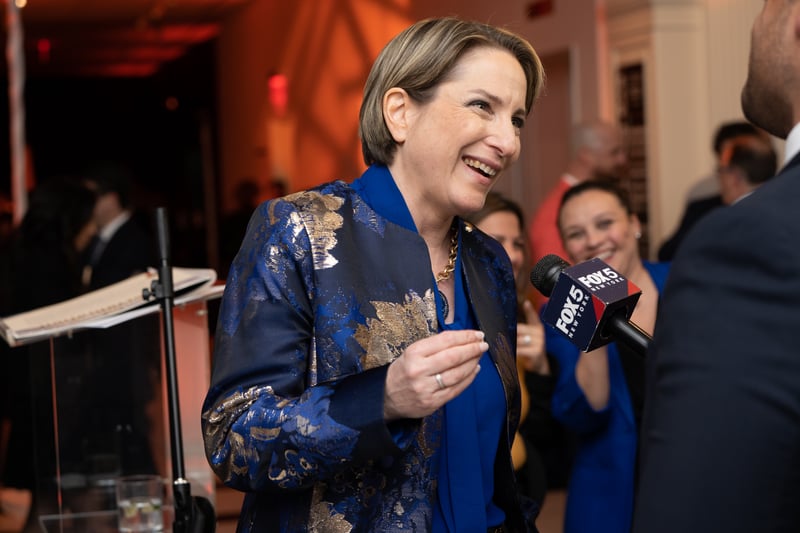 Leslie speaking with reporters after delivering her welcoming remarks. Photo by Jared Siskin.
As guests delighted in flavorful bites from the Eat Offbeat catering team and tunes from DJ Kristaval, many reflected on the history of Food Bank and their connection to its work.
"I'm just thrilled to be here," shared Michelle Kamen, a supporter who has been giving to Food Bank for three years. "It's amazing to be part of an organization like this that does so much good for others."
When asked what keeps her excited about being part of the Food Bank family, Michelle's answer was simple: the mission.
"I recently got to go to a Food Bank Mobile Pantry distribution in East Harlem and it was wonderful getting to connect with the people we serve," she explained. "Everyone was so happy to see us there giving out food and I was so happy to be some small part of the work."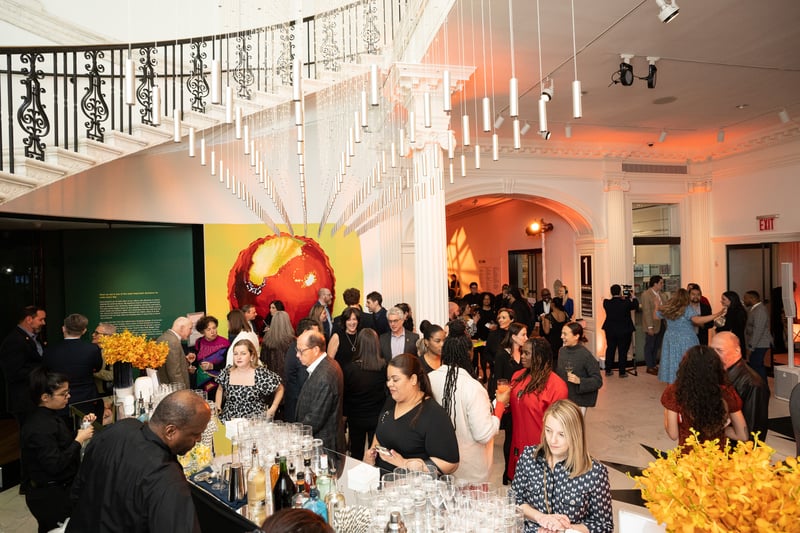 Guests gather in the foyer before exploring exclusive access to exhibits on the first and second floors. Photo by Jared Siskin.
Jennifer Brogan, the Director of External Communications & Community Relations at Stop & Shop, shared a similar sentiment, talking about the impact that Food Bank and Stop & Shop have been able to make together over the years.
"Stop & Shop has been a longtime partner of Food Bank, giving both food that is unsold from our stores as well as monetary support. What keeps us connected to the mission is the simple fact that the need for food across the five boroughs is so high."
"We operate grocery stores all over the city, and we see firsthand just how real the problem is," she continued. "But when we partner with Food Bank, we get to help bring fresh produce and other goods into food deserts, into the neighborhoods that need us most. It's an incredibly rewarding partnership because we know we're making a real difference."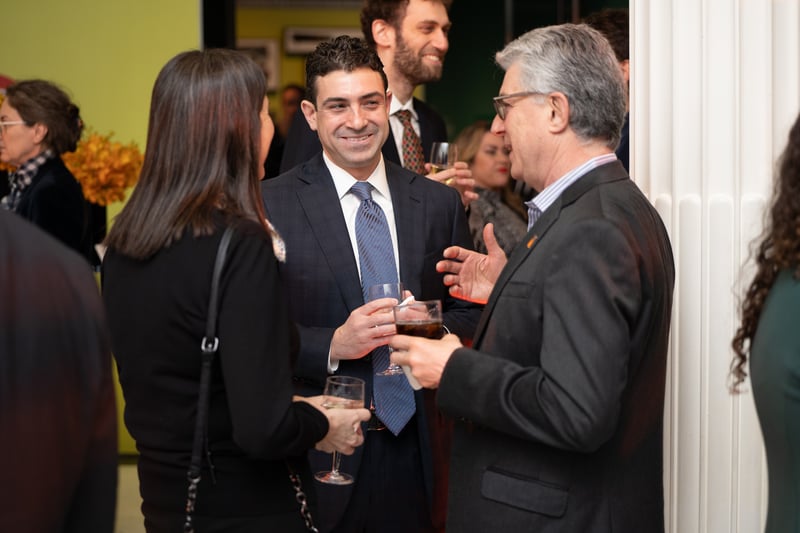 Food Bank Board Member Lary Stromfeld (right) chatting with one of our newest Food Bank Board Members, Ted Segal. Photo by Jared Siskin.
But the night wasn't all small talk and champagne – it also included a surprise visit from Mayor Eric Adams who presented a special proclamation to Food Bank in honor of its 40th anniversary.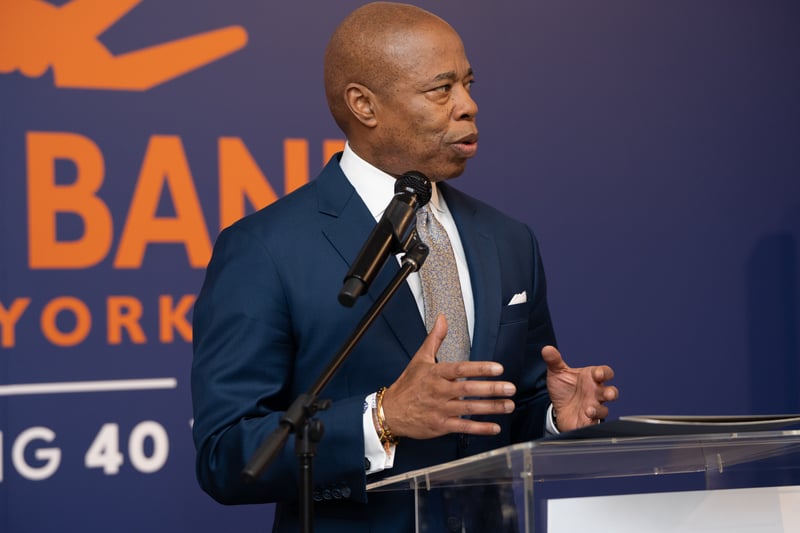 Mayor Eric Adams speaking about Food Bank For New York City. Photo by Jared Siskin.
"The conversation about food is something that is extremely dear to me," said Mayor Adams. "And what I love about Food Bank is that you all have continued to evolve over the years to fill in the gaps for our neighbors."
"During COVID, I saw you all on the frontlines bringing food to pantries," he continued. "You have to dig deep during times of crisis, and that's exactly what you all did. Do you know how many families would not have been able to meet their basic needs if they didn't have you? Thank you for all that you do."
After his remarks, Mayor Adams revealed the proclamation, officially naming March 29 "Food Bank For New York City" day. It was an honor to share the stage with the mayor of our great city, and we look forward to continuing to work with him and his team to fight food insecurity for all New Yorkers.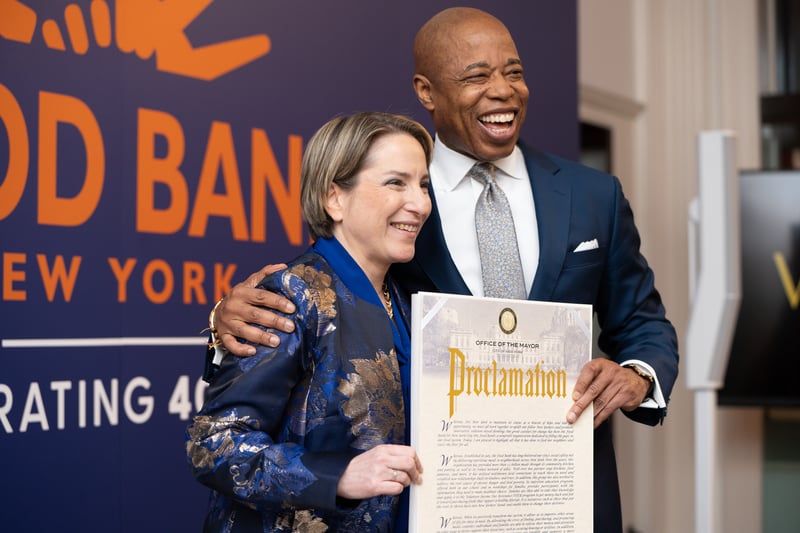 Leslie receiving the proclamation from Mayor Adams on behalf of Food Bank For New York City. Photo by Jared Siskin.
As the night wore on and the music continued to play, screens throughout the space showed a livestream of the Empire State Building, which had been lit up with Food Bank's signature oranges and blues in honor of the occasion. A fitting end to a night all about celebrating 40 years of Food Bank serving the greatest city in the world.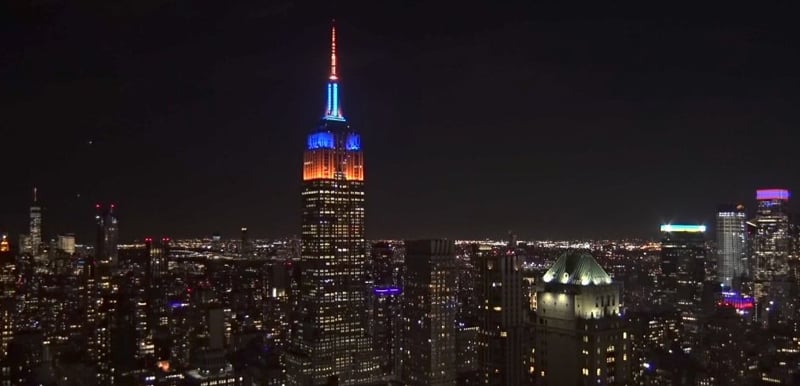 A special thanks to the Museum of the City of New York for hosting us and to Great Performances for catering the event with their "Eat Offbeat" team, which is made up of refugee and immigrant chefs on a mission to show how much better life can be when we add new flavors to the food we eat.
Thank you again to all of our attendees and to the staff behind the scenes who made this a night we won't soon forget. And please, enjoy more event photos below!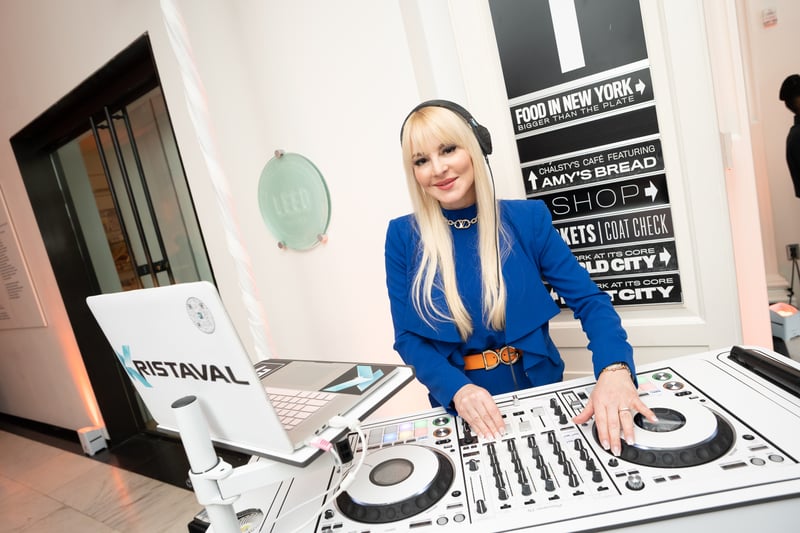 Photo by Jared Siskin.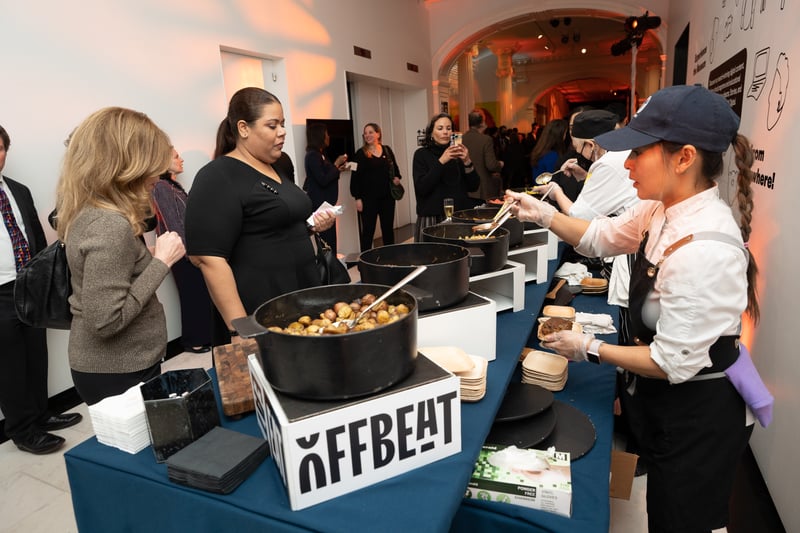 Photo by Jared Siskin.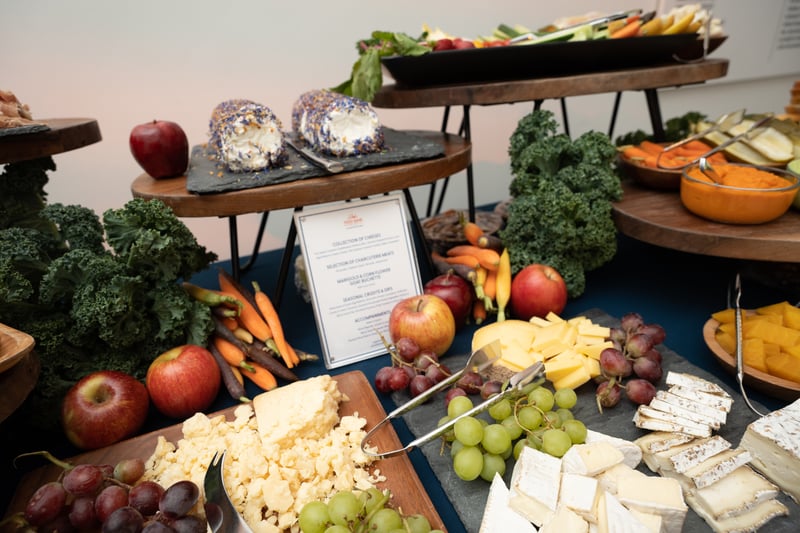 Photo by Jared Siskin.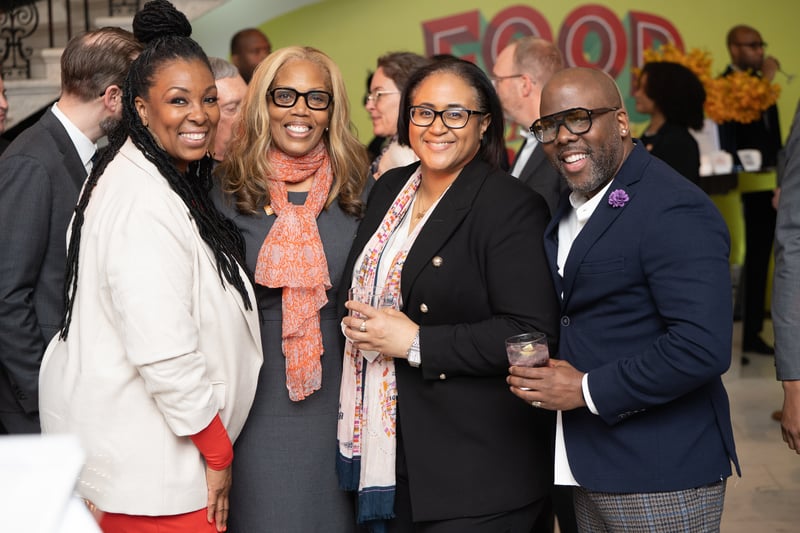 Photo by Jared Siskin.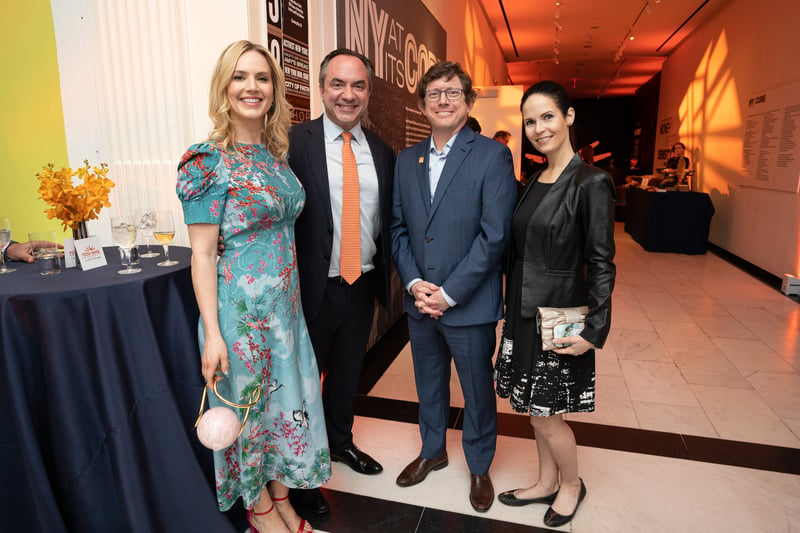 Photo by Jared Siskin.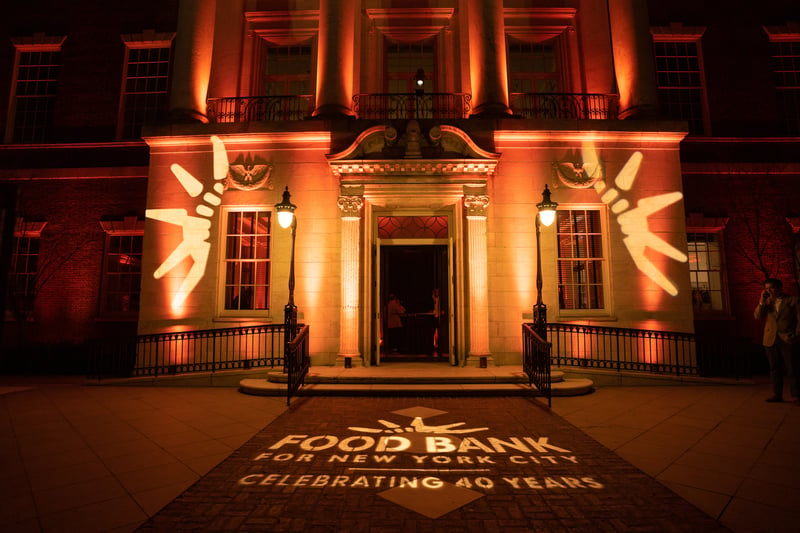 Photo by Jared Siskin.