Published August 24, 2023
Earlier this week, we were thrilled to welcome fitness guru Isaac Boots, entertainment mogul Charlamagne tha God, and Saturday Night Live star Kenan Thompson to our Community Kitchen & Food Pantry in West Harlem!
The trio chatted with Food Bank For New York City staff, learned about our mission to empower every New Yorker to achieve food security for good, and even got to meet some of the community members we proudly serve.
Learn more about their visit below!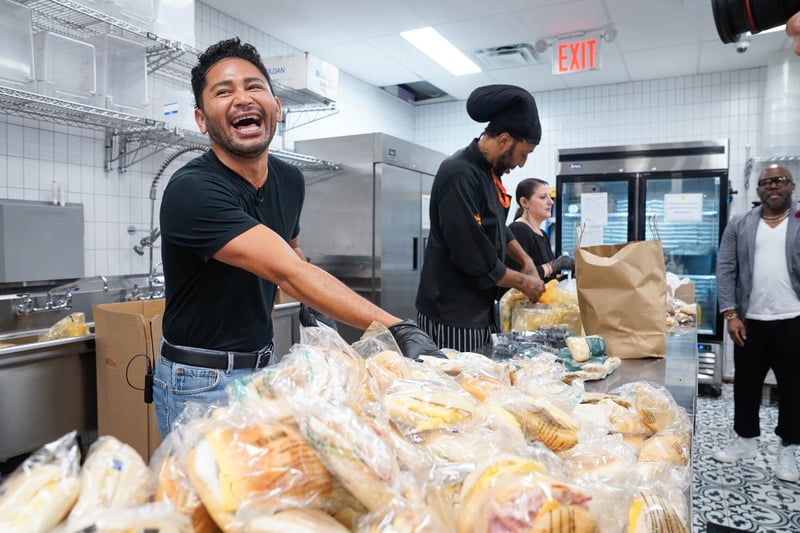 Isaac Boots packing food in Food Bank For New York City's Community Kitchen.
Kenan arrived first, meeting Food Bank's Culinary Manager Sheri Jefferson and Community Kitchen Director Sultana Ocasio. The three discussed the ins and outs of service at our kitchen, providing both a brief overview of our mission and a tour of our facilities. Chef Sheri then presented Kenan with a box of her world-famous Chocolate Chip Cookies.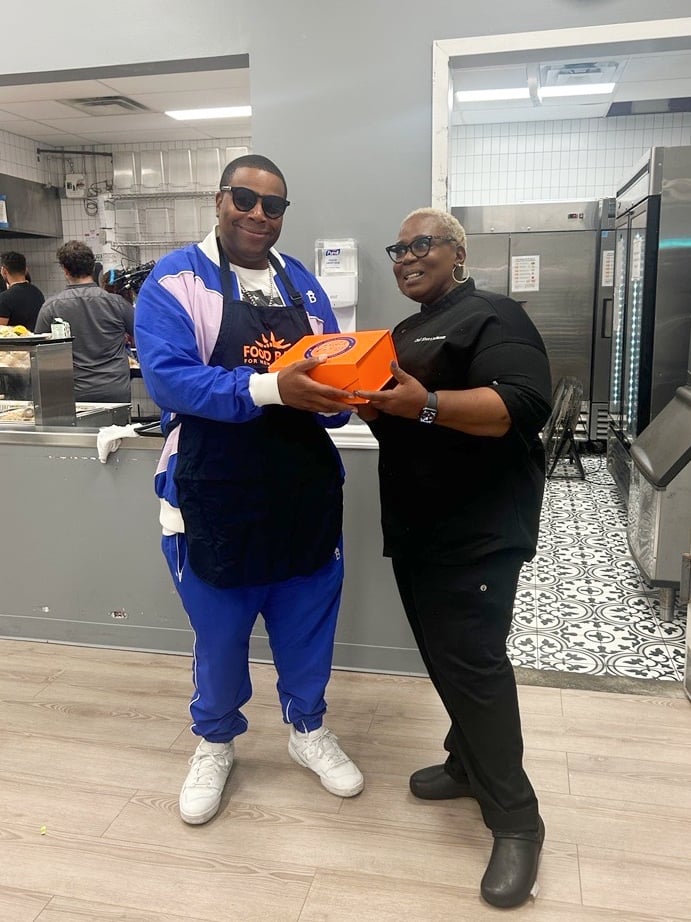 Kenan Thompson receiving a box of homemade cookies from Chef Sheri.
After introductions were made, Kenan got to work serving lunch to our Food Bank seniors. They were as delighted to meet him as he was to meet them, and the beloved SNL star made a point to stop and chat with all those enjoying meal service that day.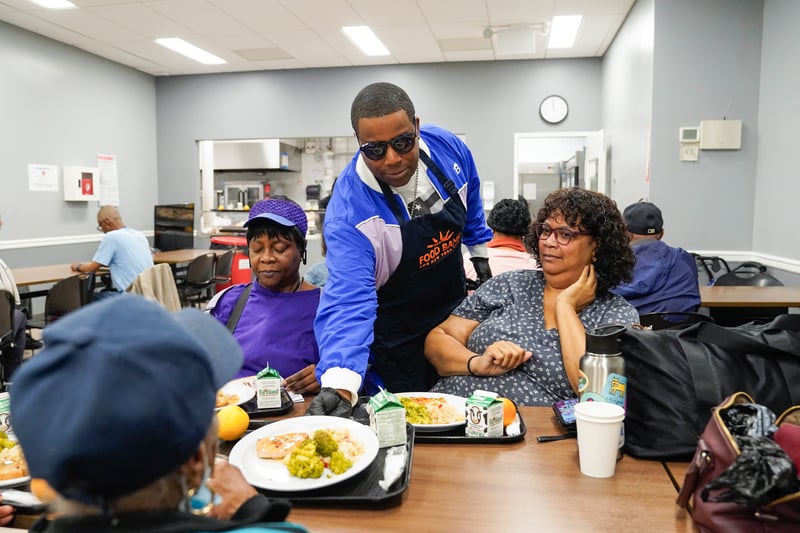 Kenan Thompson serving seniors at Food Bank For New York City's Community Kitchen.
Afterwards, celebrity fitness trainer and humanitarian Isaac Boots came through with a group of his friends. They got to work immediately, heading to the kitchen to pack bags for senior meal service. Later, they participated in our pantry distribution, which serves hundreds of New Yorkers each day.
Isaac himself struggled with food insecurity when he was younger, so was proud to give back to the community alongside his dear friends.
"I'm here today to take care of the city I love because it took care of me," said Isaac of his experience serving with Food Bank. "Growing up on food stamps, I live a very different life now but I can never forget that. It's amazing to bring my friends here today and share our gratitude with all of you for everything you do for New York City."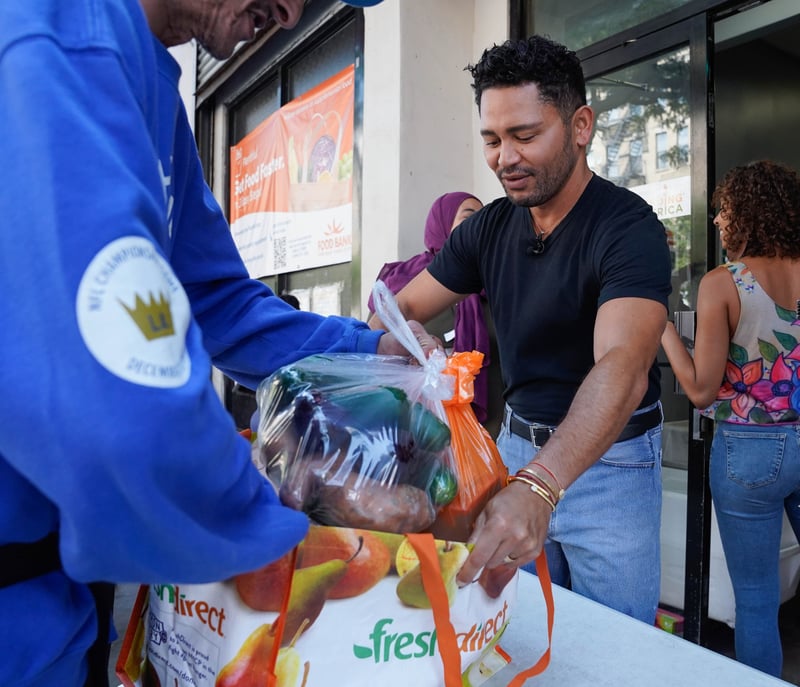 Isaac Boots serving at our daily pantry distribution.
Near the end of the day, Charlamagne visited the kitchen to liaise with Food Bank staff and get a bird's eye view of our mission. Committed to using his platform for good, he wanted to learn more about what we do so that he could help us reach more and more New Yorkers.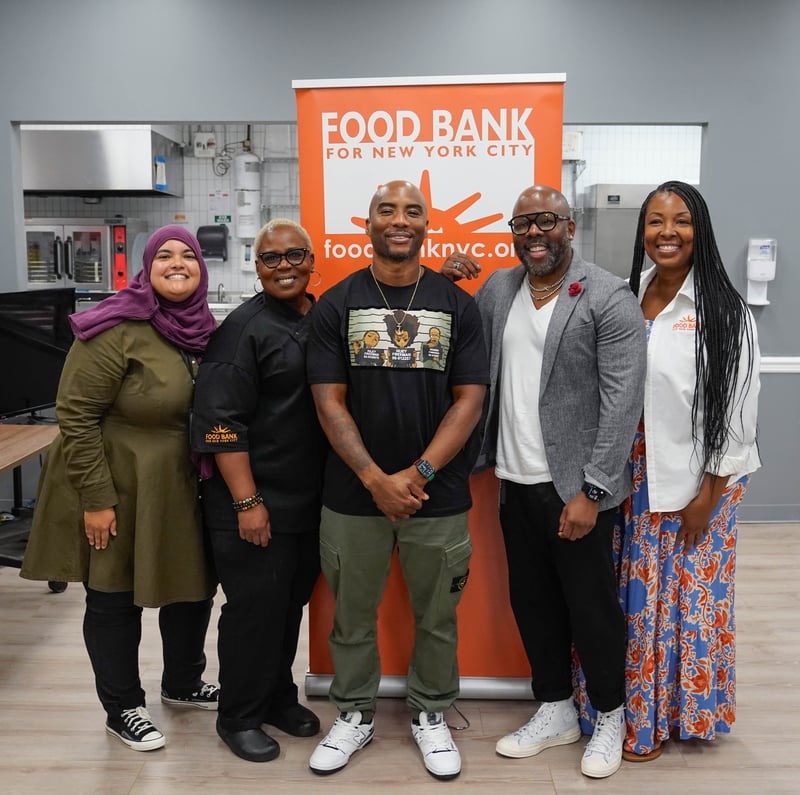 Charlamagne tha God posing with Food Bank Staff.
A huge thanks to Isaac Boots, Charlamagne tha God, and Kenan Thompson for visiting our Community Kitchen & Food Pantry in West Harlem. We look forward to seeing you again and know our neighbors loved meeting you!
See how you can make a difference like Isaac, Charlamagne, and Kenan by checking out our current volunteer opportunities at https://volunteer.foodbanknyc.org/.