Antioch Outreach is a Food Bank member agency that has been serving the Harlem community since 2008. The program was started by Ms. Peggy Allen, a Louisiana native who's been living in New York City for the better part of her life. It had been a dream of hers to start a pantry once she retired, an idea sparked by watching her single mother feed and take care of herself and her ten siblings. As Ms. Peggy is fond of saying, "You have to eat to stay alive!"
We got the chance to catch up with Ms. Peggy earlier this month to learn all about how she fills plates and hearts for her community. Read the interview below.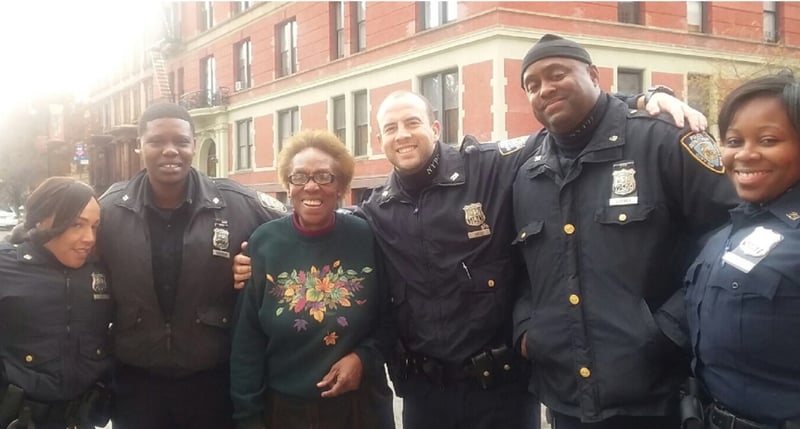 Ms. Peggy with members of the community.
How did your agency get started?
I retired in 2008 and decided to look into what it would require to open up a food pantry for my community. It had always been my desire to do something like that, but I couldn't get involved until I finished my job. I have been a member of this church [Antioch Church of God in Christ] since 1961, so I have had a connection to this building and ministry for decades; now, I get to give back through a pantry of my own.
To learn the ropes, I served as a volunteer at a food pantry down the road. I visited one day and stayed for two years. The team lead would tell me, "Oh, do this, don't do that... " she really taught me everything I know about running a pantry.
What inspired you to start serving your community?
I was born in Mississippi and raised in New Orleans by a single mother. There were 11 of us, so times were definitely hard. I can't say that we went to bed hungry, but I also can't say that we had bacon and eggs every day. What I can say is that my mother kept us together when she could have separated us. Whatever I am, you see her now.
What I learned from my mother is that you are never so poor that you can't help somebody else, even if it's someone in your own family. That purpose was put in me early, so I have always had a desire to have this kind of ministry. I don't have to be behind the pulpit, but I know I have to help others. It was put in my spirit – this is the way for me to go.
The highlight of our week growing up was when my mom would go to the bakery and get bread and honey buns for the family. We were always so excited to get this small treat. That's how I serve people, why I want to serve people. I want to give them a highlight of their own.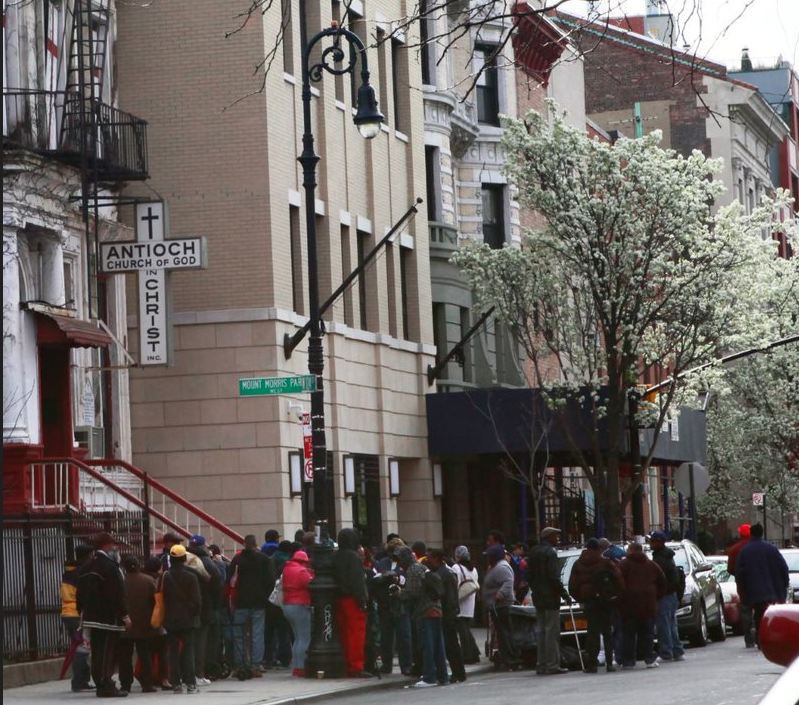 The line outside of Antioch Outreach on their weekly pantry service day, where they'll serve upwards of 300 New Yorkers.
How has your pantry grown since you first started?
When I first started, my goal was to feed 50 people a week. At the beginning, we were only able to serve onions and potatoes. I thought, "If I can just reach 50 people, I'll be happy." We quickly blew past that goal and, before COVID, we were serving nearly 500 people a week. Since we reopened last February, I'd say we're serving an average of 300 people a week.
Since reopening, our demographic has changed. We've seen an influx of immigrant communities visiting our pantry, which was challenging at first in terms of communication. But we've started to bring in translators to help us communicate better with all the different types of New Yorkers on our line.
What are some of your community needs?
It's a very low-income community. They need basics – clothing, food. I'm known as "begging Peggy" because I'm always working to see how I can get my neighbors what they need. And what they need is everything.
I remember once when a volunteer of ours saw a man on the subway with a walker that had three wheels when it should have had four. She told this man to follow her to the church and we would get him a walker. When that man eventually left, it was worth whatever we went through – all of the sacrifices – to get that walker for him. I encourage people to ask me for what they need. If I don't have it, I'll try to get it.
I just try to show an interest in every person that comes through our door. A person can come to us for food and I can see that they need new shoes, even if they won't admit it. So, instead of asking them if they want shoes, I simply ask, "What size shoe do you wear?" Nobody wants to be looked down upon, so I ask about the size, and the next time they come in, I'll have the shoes ready for them.
If you can show people you care like that – if the spirit of your giving comes from a place of genuine interest in their well-being – you've got them, you've captivated them. You build trust by the way you treat people, by the kindness you show. Very few people can reject kindness.
A guy came in once who was just out of jail. He was acting ashamed, so I said, "But you're out! Now, tell me, what do you need?" If you are in this business, be in it. For me, it's all about helping someone feel better about themselves.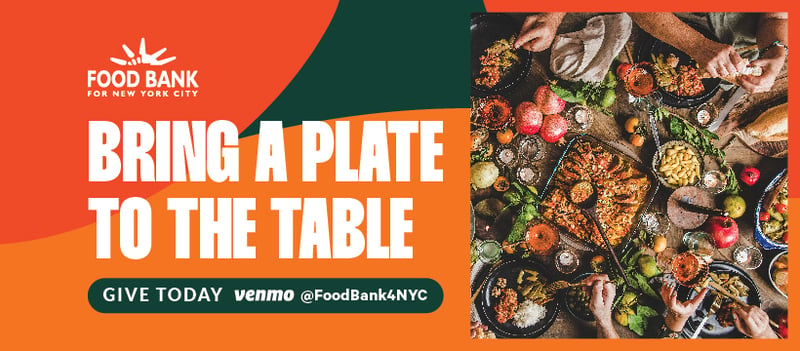 At Food Bank, we are proud to provide food and other resources to organizations like Antioch Outreach that are doing the work to feed our neighbors every day. To learn more about how YOU can help bring a plate to the table for New Yorkers like Ms. Peggy and her team, click here.
Together, we can make sure that all of our neighbors have what they need to celebrate the holidays with the dignity they deserve.