Food Bank For New York City's 2nd annual 5-Borough Challenge is in full swing! From now until December 31, New Yorkers from Staten Island up to the Bronx are encouraged to take to social media to challenge their friends, family, and followers to donate to Food Bank in support of our mission to feed ALL New Yorkers.
To learn more about the campaign, we spoke to Janis Robinson, VP of Institutions and Partnerships at Food Bank (pictured below). She provided insight into the origin of the challenge and why its message of unity and hometown pride is so timely in the midst of the ongoing COVID-19 pandemic.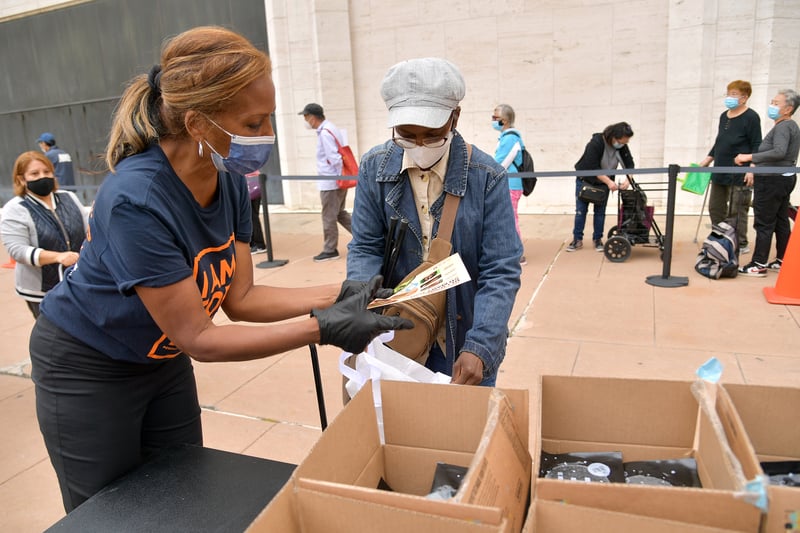 What inspired the creation of the 5-Borough Challenge?
We know that New Yorkers love a good competition, especially one between the boroughs. So, this was really an opportunity to tap into that energy in service of a great cause. Plus, we have fantastic relationships with NYC-based celebrities and influencers across the five boroughs who are always down to raise support and awareness for our neighbors in need.
What is the goal of the 5-Borough Challenge?
The goal for each borough is to raise $20,000, which will then be fully matched by our longtime partner and friend Bank of America for a grand total of $200,000. These critical funds will help us reach our overall goal of providing 20 million meals to New Yorkers in need this holiday season.
While the financial goal is certainly important, it's not the only goal of this campaign. We want to ignite energy among the boroughs, get folks excited about fighting hunger for ALL New Yorkers. It doesn't matter what neighborhood you live in – you can walk outside your door right now and see that there is still such a need for food in NYC. Taking a moment to think about that during the holidays is crucial.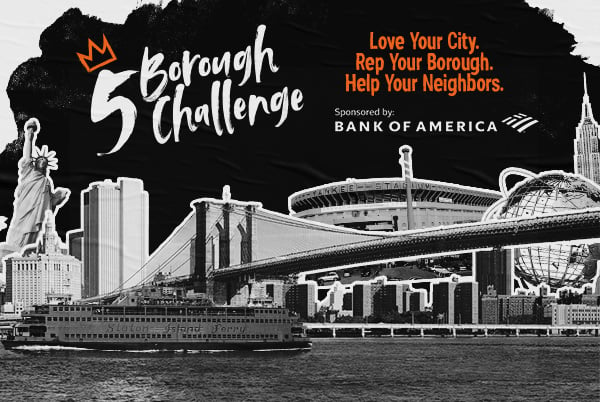 Why is it so important for New Yorkers to come together now in this way?
When you look around NYC, you can feel the impacts of COVID-19 everywhere. So many of our office buildings are still empty. There are foreclosures happening, people still losing their jobs. And yet, these very same people still need to pay rent and utilities. So many of our neighbors still need support to get food on the table for themselves and their families.
What makes the 5-Borough Challenge unique?
In a place like NYC, in these boroughs, there's so much density, so much in the way of people. Harnessing the power of those people, of those New Yorkers, is really what this challenge is all about, and what makes it so unique. There's nowhere else in the world with a borough system like ours, and we take an immense amount of pride in that. One thing that we've seen time and time again at Food Bank is how New Yorkers always come together to support their own. It's a truly powerful thing.
How can people extend their giving beyond the holiday season?
We want people to understand that hunger doesn't just exist during the holiday season. It's not a Thanksgiving event or a Christmas event... it's year-round. There are so many opportunities to provide support throughout the year. Visit our website and look at all of the different programs we have going on. See how you can support our Mobile Pantry Program. Figure out when a pop-up food distribution is happening in your neighborhood. Stay connected to the Food Bank For New York City and we will always make sure to let you know how you can help.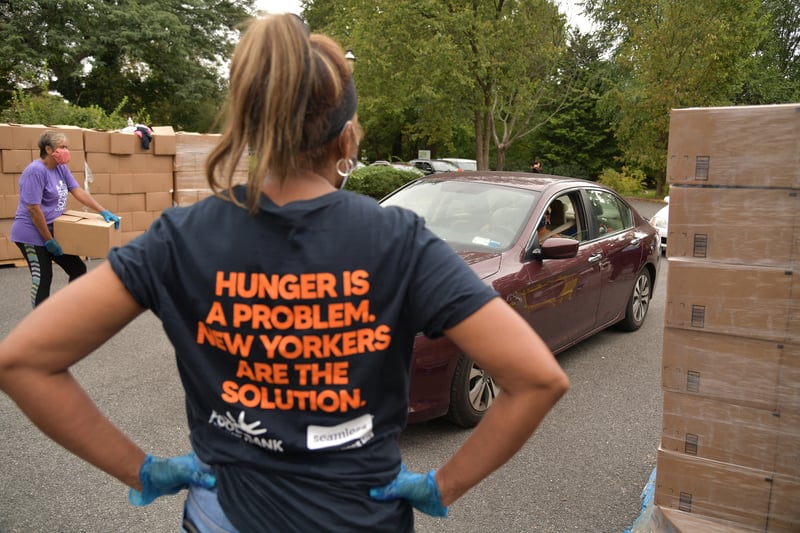 Ready to get involved? Head on over to our 5-Borough Challenge hub, where you can donate directly to the campaign and find social media assets to drum up excitement on your channels. And make sure to follow all the #5BoroughChallenge fun on Twitter, Instagram, LinkedIn, and Facebook.